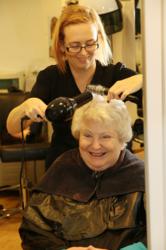 (PRWEB UK) 15 December 2012
Tables were turned on a group of Stirling's hard working WRVS Volunteers last week when students from Forth Valley College served them up some professional pampering and quality Christmas cuisine.
To celebrate their first Christmas in the new £29 million Stirling Campus Cookery and Hospitality, students at the exciting Gallery Training restaurant and Beauty Therapy and Hairdressing students at the Raploch Community Campus Salon, decided to dish up a treat to a well respected, dedicated voluntary service in the local area.
The WRVS volunteers tirelessly provide practical support to older members of the community in their own homes by offering befriending, transport to social activities as well as other transport options to support the lonely and vulnerable to keep spirits high. In addition to this the volunteers also provide invaluable hospital services – which are all especially important at this time of year – so it was with great pleasure that FVC students and staff offered this early Christmas present to them.
Aiveen McAllister, Operations Manager at the Gallery Training Restaurant in the new Stirling Campus, said, "We knew the WRVS volunteers would be entering one of their busiest periods of the year, where they would be working long hours making sure hundreds of people in the Stirling area are well cared for and looked after. So, as it's our first Christmas in our new campus the students and staff at the Gallery and the Raploch Salon wanted the volunteers to sample their special Christmas Lunch as a wee treat. We hope they enjoyed their day."
Lisa Evitt, Operations Manager for Salon Services, said, "Our Raploch Salon students have been looking forward to pampering the WRVS volunteers as they know the valuable work they do in the local community. The talented Beauty Therapy and Hairdressing students are constantly honing their skills in the working salon at the Community Campus and they wanted to impress the WRVS with their skills."
What the WRVS Volunteers said:
Margaret Price, said, "I have enjoyed myself very much – it was a real treat! Michelle who did my hair certainly has the patter and did a great job."
Susan MacMillan, said, "The whole day was totally unexpected, but it was fantastic and we were very well looked after."
Mollie Verrall, said, "It was so nice to see so many keen, enthusiastic and helpful young people at the college learning so many great skills."
Catherine Angiolini, said, "I was really impressed with the hair and beauty students all wearing their uniforms in the salon and everyone was so efficient. The attention of the staff in the Gallery restaurant was great, the view was superb and the meal was tremendous!"
Nick Price, said, "It's been a great day and we have been building links between the students and the volunteer sector and it would be great to see more young people getting involved. The restaurant was really nice and I'm sure we'll be back."
The WRVS are currently on the look out for new volunteers! Any enquiries regarding volunteering - or for more information on the organisation – please contact Sharon Norman on 01786 450 718. Visit http://www.wrvs.org.uk
To book a three course Christmas lunch at Forth Valley College's Gallery Restaurant please call 01786 406027 and for information on beauty treatments and hair appointments at the Raploch Salon call 01786 272315 or visit http://www.forthvalley.ac.uk