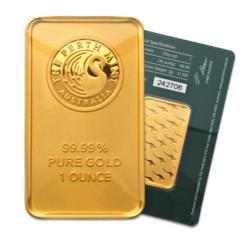 Perth Mint bars are a popular choice due to the impressive design and packaging...
Birmingham, UK (PRWEB UK) 13 December 2012
The Perth Mint began life with the founding of the Perth branch of Britain's Royal Mint in 1899. Since gold and half sovereigns were used widely throughout the British Empire at the time, Royal Mint built a number of branch mints in places where gold was already being mined, within the Empire. As one such branch, the Perth Mint refined gold found in Western Australia into sovereigns. The branch passed to the Western Australian Government in 1970 and remains Government-owned today. In 1987, the Gold Corporation was created under its own Act of Parliament to take over the Mint's operations and begin Australia's official bullion coin program.
The Gold Bullion Company opted to add Perth Mint to its portfolio because of the quality of product packaging, brand recognition and a recognition of customer confidence in a national mint brand. The choice of Perth Mint gold bullion bars now stocked by The Gold Bullion Company ranges in weight from 5 grams to 10 ounces. Each premium Perth Mint fine gold bullion bar is individually sealed in original packaging, complete with a unique Perth Mint serial number. The bars are VAT free and can usually be dispatched the next working day, along with a certificate of authenticity to guarantee both weight and purity.
With increasing economic instability at the forefront of many customer's minds, gold bullion remains an attractive investment for those wishing to buy gold. The Gold Bullion Company website enables customers to buy Perth Mint gold bars, as well as other gold coins, silver bullion and platinum and palladium products, online with a credit card, debit card or bank transfer.
Press Release Notes:
The Gold Bullion Company, a part of Sabre Jewellery, has been trading in gold and silver bullion for more than 35 years. While most of the company's customers choose to buy gold via the website (http://www.thegoldbullion.co.uk), unlike many bullion companies, The Gold Bullion Company has an office in Birmingham for any customers seeking advice on pricing, products or service.
Office Address: 95, Spencer Street, Birmingham, B18 6DA
Customer Service: 0121 523 1047
press(at)thegoldbullion(dot)co(dot)uk
http://www.thegoldbullion.co.uk