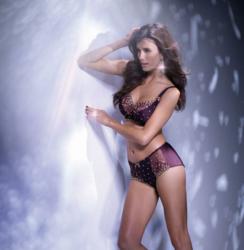 To further help festive shoppers, Leia recently launched their Hint Dropper Facebook app - allowing users to select ranges from their current collection and have their choices sent to their other halves
Desborough, Northamptonshire (PRWEB) December 14, 2012
Leia offers a wide selection for women who want to buy lingerie online and buy swimwear online - from brands such as Freya, Fantasie, Fauve, Elomi and Huit; and with sizes ranging from a 28A to 48K.
Leia speculates that the early surge in gift buying may be down to customers giving more consideration to the presents they purchase. Leia also believes that their shoppers are anxious to avoid the Christmas rush and any disappointment from popular ranges going out of stock.
In addition, gift-wrapping requests are up 25% on the same period last year, suggesting to Leia that their customers are keener than ever to create a good impression on Christmas morning.
To further help festive shoppers, Leia recently launched their Hint Dropper Facebook app - allowing users to select ranges from their current collection and have their choices sent to their other halves (along with all the relevant size details), who can then click through to purchase them from the brand's online store.
Leia have added a number of festive styles to their online boutique and, as part of this year-on-year increase, ranges such as the Lyla collection in Isis from Freya and Valentina collection in black from Elomi are selling well.
Nigel Addison from Leia lingerie said, "We're very pleased with our December sales so far. People are still being cautious with their money, but they are making more careful and thought-out decisions – hence why they are purchasing earlier. There are good signs that customers are spending more on Christmas gifts and we've even seen a rise in gift-wrapping requests by over 25% compared to last year.
Nigel continued, "Buying lingerie as a gift can be quite tricky so it's always worth remembering a few simple tips: Size matters - we'd always suggest the recipient gets fitted, but if you really want to go undercover ensure you look at the sizing labels in her underwear. It's all about her - forget what you like and concentrate on the recipient, this way they'll feel confident and comfortable. And finally find something that little bit special, women usually tend to buy practical everyday underwear so it's great when you pick up something a bit more luxurious."
About Leia
Leia has over ninety years of lingerie design experience and allows women to buy lingerie online and buy swimwear online – all whilst offering an affordable boutique experience. Sizes range from an A to a K cup. Leia principally retail through an online store, but they also have boutiques in York and Cardiff, as well as Kent's Bluewater shopping centre. To find out more about Leia, visit http://www.leialingerie.com