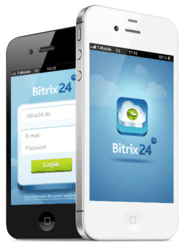 The new version release signified an important step towards small businesses
Alexandria, VA (PRWEB) December 13, 2012
Bitrix has announced the release of new versions of Bitrix Intranet (http://www.bitrixsoft.com/intranet) and Bitrix24 (http://www.bitrix24.com) with an exceptional offering of cost-effective intranet solutions that now include free mobile apps, a complete CRM, and social media integration, which signifies an important step toward supplying the needs of small businesses.
"We've experienced explosive growth within past six months with over 15,000 small business signups. We now have apps for every major OS - from Windows and Mac desktop apps to iPhone and Android, something that our clients have been asking for. Moreover, both products now have a revamped CRM and integration with Twitter and Facebook" said Dmitry Valyanov, President of Bitrix, Inc.
The mobile apps support messaging, push notifications, managing documents and task, making work with Bitrix24 and Bitrix Intranet on the go easy. The improved CRM module now includes "Activities" for planning and managing daily tasks related to sales or customer care.
Other improvements include the ability to share files with outside users, and several new employee engagement tools like polls and appreciation badges for individual employees or entire departments.
"A number of reports have been released recently that suggests businesses are struggling with adoption of large scale social enterprise tools, like Yammer or Chatter. Because we've decided from the very beginning to create social intranet tools for small businesses, rather than Fortune 500-type companies, our experience have been just the opposite - our clients are very engaged. For example, over 60% of Bitrix24 accounts are active during off hours and on the weekends. The release of the mobile apps helped us to increase the number of active product users by 30% already."
Bitrix is the maker of a high-end intranet available as a cloud-based service with over 100 employees headquartered in Alexandria, Va. The company is self-funded and works in the North American, German, and Russian markets.
Resources:
Bitrix Intranet (on-premise): http://www.bitrixsoft.com/intranet
Bitrix24 Social Intranet (cloud-based): http://www.bitrix24.com
iPhone app - https://itunes.apple.com/us/app/bitrix24/id561683423
Android app - https://play.google.com/store/apps/details?id=com.bitrix24.android