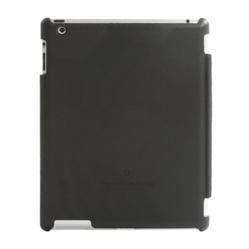 (PRWEB) December 14, 2012
Grantwood Technology recently introduced the SmartBack for iPad, a protective cover that serves as a companion to the Smart Cover from Apple. The SmartBack preserves all of the functionality of the Smart Cover, while also protecting the back of the iPad from scratches that can occur with normal use, and also serves to hold the Smart Cover in place when folded back.
Designed to work with or without Apple's Smart Cover, the easy-to-snap-in-place clips on both the left and right sides of the SmartBack create a firm hold on the iPad 2, 3, or 4. The cover allows access to all ports, buttons, and cameras, and is made from a Polycarbonate/ABS blend (PC/ABS), which makes it lightweight yet durable. To install, align the camera hole on the SmartBack with the camera on the iPad and snap edges into place.
"We like the Smart Cover from Apple," says Michael Banks, co-founder of Grantwood Technology, "It just needs a little help. First of all, it offers no protection for the back of the iPad. Secondly, it is rather annoying when the Smart Cover fails to stick to the iPad when folded back. Our SmartBack for iPad solves both of these issues."
The SmartBack for iPad currently comes in black, with a silver version due in January, 2013. It is currently available on both the company website and through Amazon. The Apple Smart Cover is sold separately.
More information about the SmartBack and other products can be found at grantwoodtechnology.com. Keep up to date with Grantwood's most recent news announcements by following @GrantwoodTechnology on Twitter or check them out on facebook.com/grantwoodtechnology.