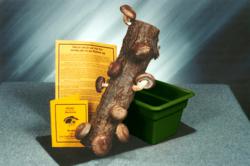 A shiitake log is a unique gift, unexpected, and fun. No extra shipping needed if orders are placed by 3 pm CST Monday, December 17.
Perkins, OK (PRWEB) December 13, 2012
"We are in Oklahoma, in the middle of the country, and we have optimal shipping schedules for Christmas shipping," says Sandra Williams, owner of Lost Creek Mushroom Farm. "We are within 3-4 days of most places, and it's 3-5 days for northern California and a small spot in southeastern California, plus a few places in Nevada."
Lost Creek ships within 1-2 days for the holiday season. Customers ordering from the website, http://www.shiitakemushroomlog.com, or by phone at 800-792-0053, can include a personal message. The Shiitake Mushroom Log Kits are available on Amazon.com at slightly higher prices.
Kits contain actual hardwood logs, such as oak and hickory, seeded with shiitake. A log will grow organic mushrooms every two months for years. Instructions and a recipe booklet complete the kit. All logs 9-10" and over are fully guaranteed to grow shiitakes.
Lost Creek Mushroom Farm's original log kit, a 14-inch log with its own tray for soaking, 'fruiting' (growing the mushrooms) and storing the log is still a best-seller at $45.95. Kits range in price from $18 for the 6-inch 'Shroomie to $80 for two 14-inch logs with soaking trays. A popular gift kit is the 9-10" single log for $30. The Ma & Pa kit is $49.95 and has two 9-10-inch logs. Prices include shipping and handling.
"The best bargain is the Best Buy kit: Two 14-inch logs with trays shipped to the same address. It's a savings of $12. A person could keep one and give one as gift," Sandra explained.
Two logs, as with the Best Buy and the Ma & Pa Kits, provide a crop every month by alternating the fruiting log.
"The Shiitake Sampler Cookbook" by Janet Bratkovich, with 51 kitchen-tested recipes, is $7.95 when shipped with log kit, $9.95 shipped separately.
Logs like light and can live alongside house plants. In the spring and fall they can grow outside in natural conditions.
'Shocking' the log by soaking it in ice water starts the mushrooms growing. Little buds, called pins, appear in a few days and 6-10 days later, the shiitakes are ready to pick. It's fun."
Lost Creek Mushroom Farm donates a portion of sales to their Mushrooms in Ghana Project and their new The Voice of the Mushroom Foundation.
"Mushrooms are the fruits of earth and wood. They can strengthen and heal the body, affect mood and emotion, improve concentration, stimulate creativity, and more." Sandra Williams lectures on the "gifts" of mushrooms for health, physical and spiritual well-being, and on the potential benefits of mushrooms for those with autism.