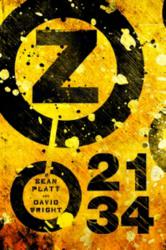 You will not regret buying this book whether you are an existing fan of [Platt and Wright], or new to them. Go for it!
Cincinnati, OH (PRWEB) December 13, 2012
Zombie fans around the world can now download zombie thriller Z 2134 to their Kindle ereaders.
Only available to readers in the USA when it launched on Amazon.com in October 2012, serial fiction title Z 2134 is now available worldwide, including in the UK, Germany, India and Japan.
Due to the book's popularity - over 50 five star reviews have been published to Amazon.com since it launched less than two months ago - it seemed only a matter of time before publisher 47North released the book to a global audience.
Authors Sean Platt and David Wright said they're thrilled to see how popular the book has already proved with an international readership.
"We're excited to know our readers across the world can get their hands on a copy of Z 2134," said Platt.
Wright added: "Though our books are set in America, we write for a global audience, so it's important to us that are books are available to everyone."
A gut wrenching mashup of "The Waking Dead" and "Hunger Games", Z 2134 is set in a post-apocalyptic America after a series of zombie plagues decimated much of the world's population. It follows the story of former City Watcher Jonah Lovecraft. Arrested for the murder of his wife, Lovecraft is given one chance for freedom. He'll be pardoned of his alleged crimes if he wins the Darwin Games, a TV survival show in which two players battle to the death in a zombie infested arena.
The book has already received two reviews on Amazon UK, both of which award it five stars out of a possible five. One reviewer, named PCH, in typical British style called the book "a cracking read".
He added: "You will not regret buying this book whether you are an existing fan of [Platt and Wright], or new to them. Go for it!"
Reviewer P. Bate, meanwhile, praised the quality of the writing and the "'oh my god' ending that leaves the reader ready for season 2."
Platt and Wright, known as the "Kings of the Serial", have grown a fanbase of hundreds of thousands of readers thanks to their eyeball grabbing style and cliff-hanger endings. Their other serialized fiction titles include Yesterday's Gone, WhiteSpace, ForNevermore and Available Darkness.
The first episodes of each serial, including Z 2134, are available to purchase as combined bundle from Amazon.com and worldwide for $2.99.