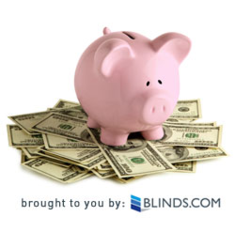 From home decorating projects to some extra savings in the bank, Blinds.com wants to make a difference in someone's new year!"
Houston, TX (PRWEB) December 13, 2012
Blinds.com, the world's largest online window covering store, is offering one lucky winner a chance to win $5000 cash in their 'Pay Off Your Bills Sweepstakes'!
Entering is fast and easy with no purchase required. Simply visit: http://blnds.cm/Pfk1AG to enter name and email address information. Entrants may earn additional entries by entering on the Blinds.com Facebook fanpage (http://www.facebook.com/Blindscom) and sharing with their Facebook friends.
"Blinds.com loves providing great value to our customers all year long; it's so much fun to offer a cash prize to brighten someone's new year," Online Marketing Manager Stephanie Pertuit said. "From home decorating projects to some extra savings in the bank, a sweepstakes like this can make a big difference!"
The Blinds.com 'Pay Off Your Bills Sweepstakes' is open to all United States residents over the age of 18 years old. Sweepstakes winner is selected at random at 11:59pm CT on December 26, 2012 and announced publicly on Facebook on December 27, 2012. Those interested in entering may learn more at: http://blnds.cm/Pfk1AG.
ABOUT BLINDS.COM
Blinds.com (http://www.Blinds.com), owned by Global Custom Commerce, is the largest online window covering store in America, covering over a million windows a year since 1996. Download 'The Window Shopper' augmented reality shopping iPhone and Android app to make ordering custom blinds, shades, shutters and draperies a no brainer. Blinds.com offers installation videos, award winning customer service and a SureFit Guarantee to make buying blinds online surprisingly easy and stress-free. Go online to http://www.Blinds.com to shop or call 1-800-505-1905 to speak to one of 100+ blinds experts.