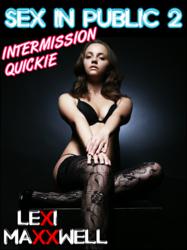 Smut for smart people," Lexi swears, "is better than readers imagine, and certainly here to stayLexi has several series, shorts, and novels planned for an orgasmic 2013!
Las Vegas, NV (PRWEB) December 14, 2012
Reader adored erotica author, Lexi Maxxwell is celebrating "America's Love Affair with Risk" with the release of "Sex in Public 2," her second collection of short stories about public coitus.
"My readers are, in the majority, Americans. From jumping out of airplanes to risking arrest by skirting along the edges of the law, Americans love the thrill of a risk. I've written my newest collection of erotica around a specific fetish – the risk, and resulting excitement, that comes from having sex in public areas. For many people, public sex is the ultimate risk, for multiple reasons."
Though Lexi has recently moved into both series and novels, Ms. Maxxwell is best known for her work writing audience pleasing short, erotic stories. Her compilations lead from one exciting climax, straight into another, pushing reader excitement closer to crescendo from one story the next. There is much to be said for an author who can repeatedly stir reader inner desire, while leaving them wanting for more.
Lexi is relatively new to the erotic author list, though she is rapidly becoming one of the top ranked on Amazon.com. Her success comes from her vividly erotic descriptions, as well as her believable – and sometimes even lovable – characters, designed to bring readers' inner risk takers into blossom.
Lexi's newest short story collection features stories that will instantly set readers' blood to a simmer. Vivid descriptions written around creative circumstances make Lexi's "Smut for Smart People" spring to life in readers' minds.
Part of Lexi's appeal also stems from her mystery. Ms. Maxxwell openly admits that her name is a pseudonym, and has yet to reveal her identity.
Lexi doesn't believe that identity has anything to do with the quality of her work. She states: "My readers are loyal because of the quality of my stories, not because of who I am. If you come to the same restaurant repeatedly, and they always serve your steak sizzling exactly how you like it, then you'll continue to come back and order with confidence. Reading's no different, except far more intimate. When erotica readers find an author who consistently serves them their favorite fantasies, they will return for every new story."
Though much is unknown about Lexi Maxxwell, she leaves many clues in her writing. Her characters feel as though they live and breathe on the page, leaping into the minds of readers, and making it easy enough for one imagine what they look, smell, and even feel like. Lexi paints vibrant pictures from black and white, her words revealing just enough depth so that the reader's imagination can take control.
As readers rave, Lexi continues to pound the keys, designing fantasies in her wonderland of words, conjuring countless scenarios, all exciting, each one crafted to lead her reader through a world of climax and release.
"Smut for smart people," Lexi swears, "is better than readers imagine, and certainly here to stay. Lexi has several series, shorts, and novels planned for an orgasmic 2013!"