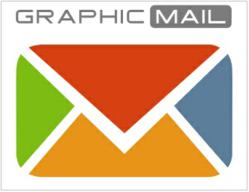 increase of 50% of unique visitors to www.graphicmail.com in 2012 over 2011, and page views have increased by 81%
(PRWEB) December 14, 2012
Website Magazine's annual survey looks at the 50 best Email Marketing Service Providers (ESPs) and singles out those who have gone the extra mile in innovation and new technologies. Ranking is calculated using a patented method that focuses on average daily unique visitors and page views over a set period of time. The international email, mobile and social services provider has seen an increase of 50% of unique visitors to http://www.graphicmail.com in 2012 over 2011, and page views have increased by 81%.
GraphicMail has recorded an increase on traffic to their .com website of 28% year-on-year for 2012, with an increase of organic visits by 75% from Google, and 22% from Bing. Due to branding and media efforts as well as good customer experience, their direct traffic has increased by 20%.
Towards the end of 2012, the micro-global company sees a spike in visitors requesting to use their innovative list clean-up tool. GraphicMail's new mailing list clean-up solution earned points for rethinking the way in which marketers reach out to their audience. Their clean-up tool uses pattern recognition technology and multiple verification checks to determine the quality of an email address in a mailing list. This results in mailing lists that are compiled of active users who interact on a real-time basis with the sender – and better open rates and click activities on links in their newsletters.
According to Forrester.com, by 2016 more than half of all dollars spent on retail in the US will be influenced by the web. The need for brands and businesses to engage with their current and potential customer base digitally, has never been more pressing. ESPs are becoming increasingly more important to businesses that need to make the transition from traditional to digital marketing and selling. Especially service providers who go beyond email marketing and offer easy ways to create leads and sales via mobile sites, SMS Text marketing and social networking.
GraphicMail's own customer survey of the last quarter of 2012 shows that new business signups are high, and the majority of new businesses consider themselves to be early adopters of new technology who are keen to learn more about the possibilities of the (mobile) web. A recent study by The Radicati Group shows that the number of email accounts worldwide is expected to increase from 3.3 billion in 2012 to over 4 billion in 2016.
It's clear that bulk email marketing is here to stay and GraphicMail, through ingenuity, simplicity and personalized packages will see their marketing solutions continue to evolve within the digital sphere and move further up Website Magazine's rankings for 2013.