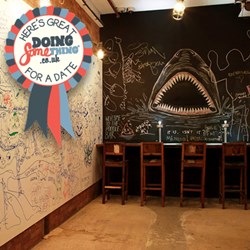 "we like what Highgate has to offer in providing expertise to support our team as well as cash"
London (PRWEB UK) 17 December 2012
Highgate Tech Fund today announces an investment into DoingSomething, the online singles dating site with a completely unique proposition. After detailed due diligence, agreement has been reached to complete this investment and Highgate Tech Fund (HGTF) has invested in this high growth London based business. Highgate Tech Fund is the Investor Fee Free EIS Fund that invests specifically in the best of the UK Tech Sector businesses in high growth segments.
DoingSomething bring a totally unique position to singles dating by combining the concept of meeting someone with unique and unusual date ideas. Working with partners to promote local interesting things to do on a date rather than the traditional meet for a drink or a meal and interview each other. Since launch DoingSomething has grown rapidly in London and have plans to launch in other major UK cities through the early part of 2013. Like most dating sites DoingSomething charges a member fee which single people pay monthly to allow them to chat with 'like' minded people on the site and discuss and agree exciting dates. The feedback since launch has been hugely positive with thousands of members now actively using the site every day. As an investment the space is incredibly competitive however with this unique concept appealing to all ages in a sector which continues to grow massively.
Andrew Muir, Fund Chairman says "we are delighted to have made this investment, DoingSomething is a business with great potential to grow, with a strong team of people and in a strong market sector. The revenue growth opportunity is enormous in this space. Success will come from clever marketing to grow the user base to achieve critical mass in UK cities. DoingSomething fits the Highgate model perfectly."
Matt Janes CEO, DoingSomething "we are already cash generative and growing ahead of plans but wanted additional investment to support the roll out across the rest of the UK's major cities. We like what Highgate has to offer in providing expertise to our team as well as cash. We are excited to be the next investee company in the Highgate Tech Fund"
Highgate will take an active role in DoingSomething via a board seat and will use the inherent expertise of the fund team to work alongside the business to support success on an ongoing basis. Highgate Tech Fund 3 is open for investment now and looking to invest in a further 4 or 5 of the best British businesses before the end of the tax year in April 2013.