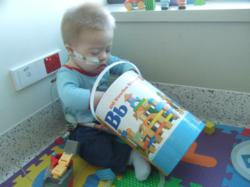 Dear TLC, "Once again a very big thank you for all the lovely presents. Teeuw loves it and me too."
-- Emmy and Teeuw
Melbourne, Victoria (PRWEB) December 14, 2012
Until 5 months ago this busy mum of 2 was still working as a project manager at National Australia Bank, only taking maternity after the birth to her second child. Rachel Au of Melbourne, now juggles a busy home life with 2 daughters under 2 years old, whilst being a key member of the junior board, helping the children's charity TLC for kids raise much needed funds for sick kids and their families.
TLC for kids is a vital children's charity who do not receive the notoriety of some of the larger charities, however they provide essential services not offered by any other organization in Australia, and receive a strong backing from the nurses and health care workers in the hospitals which care for these children.
On learning about TLC for kids, Rachel threw her support behind the organisation and vowed to provide any assistance she could offer. She is constantly looking to her associates for support and manages to always find the help she is looking for.
Recently, Rachel found out about the Bunnings BBQ events, in which Bunnings allows charities to use the space outside their stores to host BBQ's to raise money. She quickly went about arranging a BBQ for the TLC for kids junior board members to host. Not only has Rachel organized the event, she has also managed to gain support from Simplot with a donation of 15kgs of sausages and also the support of Schweppes with a donation of drinks to sell on the day, with all money going to TLC for kids. Some how she has even managed to find the time to lead a hand, working at the stall on the day, along with other members of the junior board.
"I enjoy volunteering with TLC for kids as I am passionate about kids and families during their time of need. Their mission resonates with me and I enjoy hearing about and seeing the difference it has made to the lives of so many people. The work I do with TLC for kids gives me an enormous sense of satisfaction," says Rachel
This sausage sizzle is one of many events that the junior board members hold each year to help raise money for TLC for kids. Anyone wishing to contribute a donation is welcome to show up on the day and buy a sausage. The TLC for kids mascots Splidge and Splodge will be there to entertain the kids. Donations can also be made via the website.
Event Details:
Bunnings Maribyrnong
Saturday 15th December
9am – 4pm
About TLC for kids
National non-profit, TLC for kids, is the only organisation in Australia able to provide free support for kids during painful procedures, and within the critical 48 hour period following an emotionally traumatic experience in hospital.
Their driving force is to reach those kids with less common illnesses and diseases such as accident & burns victims and kids who, by sheer misfortune, don't meet the criteria of the existing services.
For further information:
Ana Darras, Ana(at)tlcforkids(dot)org(dot)au, 0417 369 101