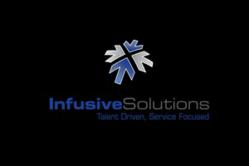 "We feel like straying away from the typical stuffy corporate video formula is a great way to differentiate ourselves, and convey to our target audience why we do what we do in a way that's quick, funny and accessible."
New York, NY (PRWEB) December 18, 2012
Infusive Solutions – a specialized technology staffing firm that focuses in the placement of IT professionals in the Microsoft technology vertical - today announces the release of its first video entitled "The Moment."
It's been hard to miss the fact that IT professionals of all shapes and sizes have arguably the most in demand skill sets in the job market right now, with hiring managers in virtually every industry seeking the talent that can handle website and mobile application development, database administration, desktop support and other core technical functions.
This is especially true in the New York metro area, which has come to be one of the top hubs for tech staffing in the country, now competing with regions like Silicon Valley for the best IT talent in the U.S.
But, even though there are countless firms in NYC seeking top technical talent, many hiring firms have convoluted hiring processes and massive application volumes are that make it difficult for even the most qualified candidates to get in front of the proper decision makers.
By the same token, breaking through the clutter and finding candidates at the right price who are a good technical and cultural fit is a most difficult prospect for hiring firms seeking IT talent as well.
But, with the help of Infusive Solutions' talent specialists – defacto matchmakers of the business world - candidates and hiring firms are having a far easier time finding one another.
In order to personify their service, the Infusive team just released a brand new video that highlights the company's unique, fun-loving personality with a whimsical story line that finds a hiring authority and IT candidate discovering one another in most epic fashion.
"The staffing industry suffers from poor branding," said Infusive's digital marketing strategist Benjamin Weiss. "We feel like straying away from the typical stuffy corporate video formula is a great way to differentiate ourselves, and convey to our target audience why we do what we do in a way that's quick, funny and accessible."
About Infusive Solutions:
Infusive Solutions Inc. is a niche technical staffing firm within the Microsoft Partner Network dedicated to helping clients in law, finance, media, healthcare, fashion and other verticals hire IT professionals as well as developing technical talent into the best professionals they can be.