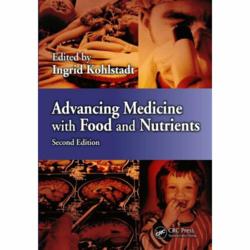 "This text reminds us of the strong scientific foundation for arguing that healing starts with our diet" -Mehmet Oz, MD
Baltimore, MD (PRWEB) December 18, 2012
Should food and nutrients be on your doctor's prescription pad? The resounding answer is "Yes!" Physicians searching for answers to their patients' questions about nutrition now have access to authoritative answers. With a heaping plate of scientific evidence, 70 leading clinicians and researchers have authored Advancing Medicine with Food and Nutrients, Second Edition edited by Ingrid Kohlstadt MD, MPH (CRC Press, December 2012). The edition's timely arrival is prompted by accelerated evidence supporting personalized and disease-specific nutrition. The bestselling 2009 first edition was featured in JAMA (Journal of the American Medical Association), Audio Digest, and Hopkins Medicine Magazine as a powerful collaboration to help clinicians utilize nutrition to its full healing potential. "This book is an excellent in-depth review of the evidence to support the role of nutrition in health promotion and disease prevention, and should be read by all those who strive to improve the health of the people they serve," notes Miriam Alexander MD, MPH of Johns Hopkins Bloomberg School of Public Health.
"This text reminds us of the strong scientific foundation for arguing that healing starts with our diet" remarks Mehmet Oz, MD. Food and nutrients are the original medicine and the shoulders on which modern medicine stands. But in recent decades, food and medicine have taken divergent paths and the natural healing properties of food have been diminished in the wake of modern technical progress. With contributions from highly regarded experts who work on the front-lines of disease management, Advancing Medicine with Food and Nutrients, Second Edition brings food back into the clinical arena, helping physicians put food and nutrients back on the prescription pad, reuniting food and medicine.
New emphases include nutrigenomics, drug-nutrient interactions, dietary supplement safety considerations, biotoxins, nutrient delivery, and blood viscosity. Its forty chapters are disease-specific and offer adjuncts to standard care, fewer side effects, improved risk reduction, or added quality of life. John C. Pan, MD, a clinical professor and Founder and Executive Director for the Center for Integrative Medicine at the George Washington University Medical Center said, "The consistent and practice friendly format give the book a uniform, accessible feel, all to the credit of a strong editor, Dr. Ingrid Kohlstadt"
So, consider gifting yourself or your doctor with a copy of Advancing Medicine with Food and Nutrients, Second Edition for the holidays. It might be the most important "INGRIDient" in your 2013 recipe for making healthful choices for the New Year.