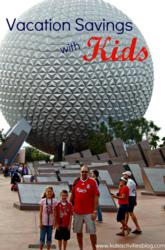 Teach the kiddos the value of money and avoid spending too much this holiday season.
Dallas, Texas (PRWEB) December 15, 2012
Resourceful tips about vacation savings with kids are featured on Kids Activities Blog. The price tag that usually comes with a family vacation is usually not "family friendly." Kids Activities Blog has researched a lot of creative ways about how to save money for the special family vacation.
The most important advice is to get the whole family involved in saving for the special trip. Often children are not aware of how much small savings can add up over time. Pointing out to them that every nickel saved in the household can get them closer to a vacation at the beach will make them aware and the whole family will be surprised at the ingenious ways the kids will come up with saving a nickel or two.
Some of the ingenious ideas to save money are setting up a vacation account, making a vacation jar and putting it on the kitchen counter. The saved money at the grocery store through coupons or any other discounts can be placed into the jar. Other clever ideas include budgeting the entertainment expenses from the family over a period of time such as going to get DVDs at the library or choosing free family entertainments offered throughout town. Another original tip includes hosting a vacation fund yard sale. And best of all, a special holiday tip includes promoting creative gift giving within the family. Creative gift giving includes making a chore coupon book, giving gifts of love such as a back rub, and many more other gift ideas that do not require spending money at the store.
For a complete list of money saving ideas, check out Kids Activities Blog. Additional kids and money advice featured includes life long money management lessons for kids. These money lessons begin in Early Childhood Development, throughout teenage years and into young adult live. For in depth, age appropriate money learning skills, check out Kids Activities Blog.
Teaching kids sound money lessons will prepare them for life. Begin this holiday season and carry the lessons into the upcoming year to get the kids started on the right financial track.
About Kids Activities Blog
Kids Activities Blog is a website created by two moms (who collectively have 9 children), Rachel Miller and Holly Homer from June Cleaver Nirvana. It is their daily goal to inspire parents and teachers to play with kids. This interactive website publishes simple things to do with kids twice a day. Kids Activities Blog is a great tool for moms and teachers to find kid-friendly activities that create memories and sneak learning into the fun.