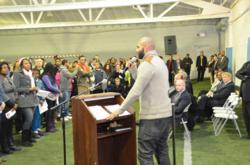 From the kids to the management, it's an incredible organization.
(PRWEB) December 13, 2012
Bears' Pro Bowler Matt Forte made a special appearance at Mercy Home for Boys & Girls to celebrate the organization's 20th annual Christmas tree lighting ceremony on Tuesday, December 11th. Forte and his wife marked the special holiday tradition with the youth and staff of Mercy Home.
Inspired by the services that Mercy Home provides for local Chicago youth, Forte signed on as an official spokesperson earlier in 2012. The organization gives support and guidance to kids in crisis, with the goal of helping them to reach their full potential. As the spokesperson, Matt is committed to being a positive adult mentor and role model for the youth participants in the program. Although it has been a busy season Matt makes it a priority to find time to spend with the young people as often as he can. In addition to providing Bears game tickets for Mercy Home youth to attend every home game at Soldier Field, he delighted many of the kids as a special guest server at Mercy Home's 2012 Thanksgiving dinner.
The evening was filled with speeches, carols and special treats leading up to the main event of the tree lighting. Matt surprised the group with an early Christmas gift presentation of five Lenovo C400 All-In-One desktop computers. Each computer has a 21.5-inch HD LED display and designed to perform optimally, whether users are surfing the web or creating a presentation. He noted that the combination of performance and durability made the computers an ideal choice for Mercy Home, and would be another essential resource for the organization.
"I am truly honored to work with Mercy Home and I never cease to be amazed", said Forte. "From the kids to the management, it's an incredible organization and it's reflected in the lives they change as a result. I want to do my part to ensure they have the resources they need to continue that legacy and I couldn't think of a more beneficial gift."