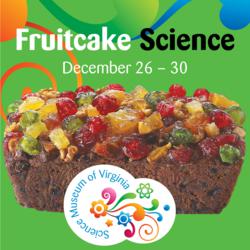 Richmond, Virginia (PRWEB) December 14, 2012
In a recent survey of gifts people would least like to receive for Christmas, only VCRs, mock turtle neck sweaters and lickable stamps ranked lower than Fruit Cake. The Science Museum of Virginia, however, truly believe s that this much maligned piece of holiday pastry has a valuable role to play in the world of science. Fruitcake Science not only furthers man's understanding of the natural world, it also celebrates this pastry by subjecting it to the rigors of scientific testing Wednesday, December 26- Monday, December 31. Join our scientists as we freeze it with liquid nitrogen, try to float it on water, freeze it, and ignite it.
Fruitcake Science has become the leading science testing program of this holiday tradition in North America. Our guests build electric circuits to see if fruitcake can conduct electricity. They watch "Galileo" drop fruitcakes from our "Leaning Tower of Pisa" — played by our giant red staircase — demonstrating the Universal Law of Gravitation. Find out if fruitcake will float, burn or freeze. Take the fruitcake challenge and try to develop a bridge strong enough to support a two-pound fruitcake.
Fruitcake Science is included with Museum admission. Tickets are $11 with $1 discounts for ages 4-12 and 60+. IMAX tickets and showtimes can be found, along