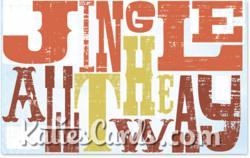 The winter season is an important time to celebrate for many different cultures, countries and religions.
London (PRWEB) December 14, 2012
Katie's Cards (http://www.Katiescards.com), UK ecard provider, today announced extra ecard options ready for the Christmas rush. The Christmas ecards include greetings with festive songs and an interactive game.
The new Christmas e cards include the Jingle Bell Jive, a jazzy version of the old classic, and a Snowman game. The e card features a snowman who, having stolen Santa's sleigh, must guide the reindeers around the city skyline, avoiding all obstacles. As an added detail the reindeer are dressed in the Kwanzaa colours of red, black and green. Kwanzaa is a pan-African and African-American holiday celebrated from the 26th December - January 1st. These new ecards join classic, much loved, designs on the Katie's Cards site such as 'Turkey Breakout', 'Christmas Cottage' and 'The Night Before Christmas'.
The winter season, especially around Christmas, is a busy time to send greetings cards to friends and family, and a growing number of people are choosing to send their greetings electronically. Ecards are personalised, affordable and interactive, can be sent internationally through email and directly to friends via Facebook. They provide convenience and speed in the busy Christmas period, while helping to reduce our carbon footprint. With the rising costs of postage and more restricted budgets at home, e-cards are an ideal way to share the festive spirit, without breaking the bank.
Katie Davies, Owner of Katie's Cards, said: "Our aim is to provide our customers with beautiful, eye-catching cards suitable for everyone. We are always creating new ecards to give our customers greater choice and value when they use the Katie's Cards website."
"The winter season is an important time to celebrate for many different cultures, countries and religions. Although many people send ecards for Christmas, there are many other celebrations across the world at the same time, so we always try to reflect this in our ecard range." she said.
Katie's Cards offers ecards for every major festival in the Winter season including Christmas, Thanksgiving, New Year, Hanukkah and Thankyou e cards, after all the celebrations have finished.
She continued: "We are pleased to grow our ecard selection and hope that people enjoy sending them. With these new ecards, our customers can send exciting and interactive ecards and games to their loved ones across the World."
Katie's Cards is on track to have another record-breaking festive period this year providing ecards for Christmas, and other major celebrations, to consumers and businesses.
About Katie's Cards
Katie's Cards (http://www.katiescards.com) was established in 2007 and provides a range of over 200 ecards to consumers, for a range of international holidays and celebrations. It recently launched a business Ecard service, offering organisations the ability to send static, animated or bespoke Ecards to their stakeholders. For more information on its consumer division, visit http://www.katiescards.com; for its business division: http://www.katiescards.com/company, or follow the company on Facebook.
Company contact details
http://www.katiescards.com
35 Wick Road
Teddington
Middx TW11 9DN
United Kingdom
+44 (0) 20 8274 2069