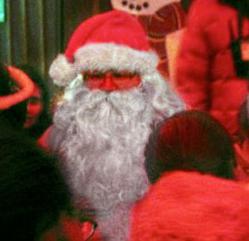 Enjoy hands–on activities and meet and take your own photos with holiday favorites, from Santa Claus to Frosty the Snowman to other surprise characters from the North Pole.
Norwalk, CT (PRWEB) December 17, 2012
Stepping Stones Museum for Children, an award-winning children's museum in Norwalk, Connecticut, is pleased to announce a new lineup of attractions and activities during the holiday season. Holiday season highlights include North Pole Comes to Stepping Stones, a Russian-themed Vacation Week, and numerous other holiday activities.
From December 17 – 21 from 10:30 – 11:30 am and 3:00 – 4:00 pm,Stepping Stones Museum for Children will feature North Pole Comes to Stepping Stones, a special daily event where guests meet Santa Claus and friends, take their own photos and make their own, limited-edition 2012 BooZoo™ holiday ornament.
During the week between Christmas and New Year's Day, the museum presents a Russian-themed "Vacation Week", which features daily hands-on, Russian-themed activities for children. On Wednesday, December 26th, guests will learn some Russian words and how to write their name in Russian. On Thursday, December 27th, guests will make a Russian nesting doll out of cloth, and on Friday, December 28th, guests will decorate a Russian Imperial egg in the Faberge style.
Other holiday activities include Elf Workshop Holiday Crafts and a Holiday Handbell Performance on Saturday, December 15th at 2:00 pm. During the holiday season, visitors also created a special holiday card for a soldier, saw a special performance of Peter and the Wolf and attend a variety of other special holiday performances and attractions.
In addition to exciting activities for children, Stepping Stones Museum for Children features the Age of Reason gift shop, which has numerous unique holiday gifts. Visitors also have the opportunity to "Give the Gift of Learning" by donating to the museum's Open Arms Initiative, which helps children enjoy the museum's award-winning interactive exhibits and educational programs regardless of any financial, language or special needs barriers.
For complete information about Stepping Stones Museum for Children, including registration information for early childhood classes and all other holiday attractions, visit the museum's website or call (203) 899-0606 ext. 262
About the company:
Stepping Stones Museum for Children in Norwalk, Conn., is an award-winning, private, non-profit 501(c)(3) children's museum committed to broadening and enriching the lives of children and families. Located on five acres in Mathews Park, the LEED Gold certified museum encompasses five hands-on galleries, state-of-the-art Multimedia Gallery, Family and Teacher Resource Center, cafe and retail store. For more information, please visit their website at http://www.steppingstonesmuseum.org/Default.aspx.