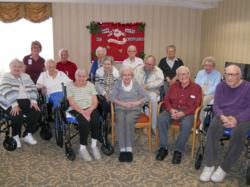 Kindness is rewarding and should be spread around.
Arlington Heights, IL (PRWEB) December 14, 2012
No matter who you are or what your age, you are more important than you think. And more wealthy and more powerful too. In your ability to give acts of kindness and make a difference. That's what residents in health care at The Moorings of Arlington Heights retirement community did when they pledged more than 50 acts of kindness to support Canadian Todd O'Reilly, 42, and his 14-year-old son in their "500 Acts of Kindness" cross-country bicycle journey from Toronto to New York City.
How did it all begin? Every day The Moorings residents would review the day's news with Health Care Activity Specialist Geri Wozniak. Dismayed by the amount of bad news they read, they began to look for good news. They found a story last summer about Mr. Reilly and his son's bike ride seeking pledges of acts of kindness.
"We began to discuss how you can change the world with one act of kindness at a time," said Ms. Wozniak. "The residents wanted to participate in Mr. O'Reilly's pledge drive and began to list acts of kindness they had given, received or witnessed. We emailed them to Todd during the bike trip." A sampling:
Evelyn's daughter Karen played the piano
I let two ladies go ahead of me for breakfast
Kindergarten kids came to visit
We encouraged the kindergarten kids.
Wife of former roommate is still bringing me the paper.
Gave a compliment
Prayed for Buthene
Helped table mate with straw
From a post at his website 500Kindnesses.com, Mr. O'Reilly writes "I've talked before about how just a simple act of kindness – a smile shared, a kind word can make a huge difference. I can speak from personal experience when it comes to the residents of The Moorings. I remember clearly one day outside of Ottawa when the weather was so hot, the bugs so bad, and my hands were still numb from bad handlebar position. We pulled over for a break in the shade and I looked at my phone to find a message from the Activities Coordinator at The Moorings, Geri, cheering us on, reminding us to stay hydrated and sharing a huge list of acts of kindness that the residents had performed. It was always wonderful to hear from them and made me feel so good that, even at the hardest times, even pushing the bike down a gravel path at 11PM, we would remember their kind words and push onward."
Holiday Christmas Card Drive
Now Mr. O'Reilly is seeking acts of kindness in return for the residents of The Moorings of Arlington Heights. In an effort he calls "500 Kindnesses Holiday/Christmas Card Drive," he asks that holiday cards be mailed to The Moorings residents with personal notes of well wishes. Ms. Wozniak told him how the residents gather as family during the holidays, open cards together, and take turns reading them aloud and posting them on the wall.
What do the residents of the Moorings want the world to know about kindness? Ms. Wozniak shared their thoughts: "Kindness is rewarding and should be spread around. There's a lot of it out there; you just have to find it. Kindness shows love."
And what do the residents of The Moorings want the world to know about them? "We are smart. We are movers and shakers, a community of people, not a nursing home. We are The Moorings; this is our home. We stay healthy and happy. We hope the Cubs win."
###
About The Moorings of Arlington Heights
The Moorings of Arlington Heights, a member of Presbyterian Homes, is a continuing care retirement community located in Chicago's northwest suburbs at 811 East Central Road in Arlington Heights, IL, just east of Arlington Heights Road. The Moorings provides independent living in apartments or villas, assisted living apartments, skilled nursing care, specialized Alzheimer's care, and rehabilitation services.
About Presbyterian Homes
Founded in 1904, Presbyterian Homes is a not-for-profit, non-sectarian organization with a national reputation for creating extraordinary retirement communities. Presbyterian Homes serves older adults through its residential and healthcare programs on campuses in Evanston, Lake Forest, Arlington Heights and Chicago, IL. The organization is accredited by the Continuing Care Accreditation Commission, the nation's only accrediting body for retirement communities. For more information visit Presbyterian Homes.