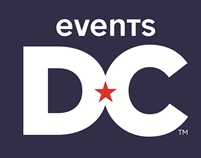 Washington, DC (PRWEB) December 13, 2012
Events DC announced today the launch of a new website that features more ways to connect and engage with event planners, potential clients and visitors. Following the introduction of the new Events DC brand in 2011, the redefined EventsDC.com combines all of the organization's digital assets - conventions and meetings division with the sports and entertainment and special events – into one seamless site.
The new design makes each Events DC property easy to navigate and to allow for more information to be readily accessed as potential and returning clients look to book, plan and attend their next event in the District of Columbia. Additional website features include enhanced social media integration and a prominent event calendar that allows visitors to search by venue, event title, event type or date. The calendar also has the added functionality for visitors to tag an upcoming event on their personal calendar or social media channels.
"As part of our enhanced digital portfolio, we are proud to unveil a new website with more interactive content and an improved user experience," explained Gregory A. O'Dell, Events DC president and CEO. "The new EventsDC.com will better serve our customers and visitors while delivering measurable advantages for our organization. The new site was designed to provide a greater event experience and deliver on the promise to attract and promote more events to the nation's capital."
"After just holding our 2012 American College of Rheumatology Annual Meeting at the Walter E. Washington Convention Center, we look forward to returning to the District in 2016 and 2020," said Ron Olejko, senior director, meeting services, American College of Rheumatology. "It's not just the destination that draws us back to the District – but Events DC caters to our attendees by offering the latest cutting-edge technology and capabilities. Their new website will help us connect with our attendees in fresh ways and provide multi-platform compatibility to fit their remote needs while off-site."
Clients will now have the opportunity to personalize an event microsite within EventsDC.com, creating a valuable, cost-effective digital tool. Client customized event pages may include detailed event information, social media tags, photo galleries and the option to drive ticket sales.
In addition to a refreshing new design and visual elements, EventsDC.com features include:

Multi-platform compatibility
Past events in review
Plan and book tools
Simple integrated navigation
Easy access to social media channels
Enhanced search functionality
Additional ROI-driven opportunities for partners, sponsors and the community
Events DC is leading the way in digital trends for conventions and meetings, entertainment, sports and cultural events in the District. Together, with other Events DC digital assets, that include a digital mobile app, multimedia offerings, social media channels, customized sales and booking applications developed internally, Events DC continues to provide premier services, capabilities, and tools to help planners, potential clients and visitors achieve an enhanced event experience.
Events DC
Events DC, the official convention and sports authority for the District of Columbia, delivers premier event services and flexible venues across the nation's capital. Leveraging the power of a world-class destination and creating amazing attendee experiences, Events DC generates economic and community benefits through the attraction and promotion of business, athletic, entertainment and cultural activities. Events DC oversees the Walter E. Washington Convention Center, an anchor of the District's hospitality and tourism economy that generates over $400 million annually in total economic impact, and the historic Carnegie Library at Mt. Vernon Square. Events DC manages the Stadium-Armory campus, which includes Robert F. Kennedy Memorial Stadium and surrounding Festival Grounds, the non-military functions of the DC Armory and Maloof Skate Park at RFK Stadium. Events DC also built and now serves as landlord for Nationals Park, the first LEED-certified major professional sports stadium in the United States. For more information, please visit http://www.eventsdc.com.
###