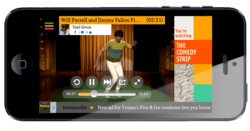 TEL AVIV, Israel (PRWEB) December 19, 2012
TEL AVIV, Israel – ­ December 19, 2012 – Stevie, the service that combines social media feeds into a highly compelling TV experience, announces today that it has closed a $1.5 million Series A funding round from Horizons Ventures bringing its total funding raised to $2.1 million. The startup is also announcing the launch of the Stevie iPhone app, joining the currently available iPad, Web and Windows 8 versions.
The funding will be used to further develop Stevie's broadcast experience and content delivery technologies. Stevie will bring the viewer's social content to multiple screens, including Xbox, Android and connected TVs. Stevie is the only platform that successfully merges the lean back TV experience with preferences and highly engaging content from social networks.
Stevie is unlike any other social aggregator service, in its ability to use the Facebook and Twitter feeds of viewers and turn them into a TV style format. Viewers' social content, along with other popular material from around the web, is organized into customized channels and creates the first social TV that knows who the viewer is and exactly what content they are interested in viewing.
"Since our launch at TechCrunch Disrupt NYC 2012, we have been continuously working on bridging the gap we see between social content and the broadcast experience," says Yael Givon, CEO and co-founder at Stevie. "We are excited to use this additional funding to make Stevie the definitive social, personal TV experience."
The iPhone version includes all of Stevie's channels such as: Fresh Picks, featuring all the latest content from friends; The Comedy Strip; Music Non Stop; and Celeb TV. Stevie is available for the iPad, Windows 8, and as a web app. There are also remote control apps available for iPhone and Android which can be downloaded from http://www.stevie.com.
ABOUT STEVIE: Co founders Yael Givon (CEO) and Gil Rimon (Chief Creative Technologist), based in Tel Aviv, are seasoned web creatives and experienced entrepreneurs. Gil has broadcast TV writing, editing and presenting on his resume, along with a strong technical background and a number of start ups around connected TV and social platforms. Yael was director of marketing at ICQ (AOL), VP product at Speedbit, consulted many start ups on product marketing strategies and previously co founded Sense of Fashion, a social commerce marketplace for independent fashion.