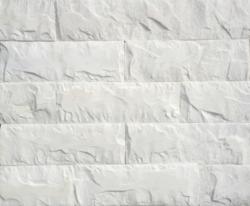 These elegant tiles can also be used as a part of featured walls and stainless steel tile backsplash areas to add depth and drama to an otherwise boring area
Miami, FL (PRWEB) December 14, 2012
Mineral Tiles is excited to announce the launch of their latest collection of split-face tiles. The Split Face Tile Collection provides an added texture and wonderful dimension to any wall tile project. Made from different materials such as natural stone, aluminum, glass, porcelain, and wood, these split face tiles can be used on commercial and residential applications such as hotel lobby, featured wall, and fireplace surround.
The split-faced tiles come in two different types to meet the different needs of their customers. One version comes in aluminum, which allows for a maintenance-free application of tile that holds up to moisture without rust. The tiles also come in natural stone, for a beauty that nature alone could not create. Mineral Tiles is already planning to add split-faced porcelain tiles as well as wood mosaic tiles to the collection in a near future.
The natural stone tiles are available in several different types of stone such as thassos, slate, quartz, and travertine. Each stone tile works well with almost any design project. Thassos is a beautiful white marble that goes well with any background colors and designs. Statuary is a gorgeous marble with a distinct veining pattern throughout. Travertine is a form of limestone and comes in several natural colors from white to shades of tan. These natural stone tiles provide a beautiful accent or focal point to any design project.
Split-faced tiles are also known as 3d tile and can be used in many different applications. They are often used for creating exquisite waterfalls, surrounding Jacuzzi or pools, or on any other type of vertical design application that the customer is wanting to tile. These elegant tiles can also be used as a part of featured walls and stainless steel tile backsplash areas to add depth and drama to an otherwise boring area.
About Mineral Tiles:
Mineral Tiles is a company that was founded on the belief that no matter how large or small the company became that they would always provide professional and honest service to their customers at a competitive price. Since the very beginning, they have stayed true to that premise and have provided their customers with the very best in tiles.
Mineral Tiles is a web-based retail organization specialized in glass tile backsplash, stainless steel and contemporary porcelain tiles. Though they have no physical storefront or showroom, they are staffed with true hardworking professionals who care about helping their customers realize their design dreams.