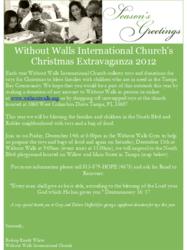 Tampa, FL (PRWEB) December 14, 2012
Bishop Randy White and Without Walls International Church announced today that Without Walls will hold its annual Christmas Toy and Food Giveaway Extravaganza this coming Saturday, December 15th, 2012 from 11:00AM - 12:30PM EST at the corner of Willow and Main Street in Tampa, Florida. Families in the neighborhoods of North Blvd and Robles Park are encouraged to come out to pick up toys and bags of food for their family.
Without Walls has held this event for the past 20 years, and continues to grow each year and help hundreds of families in need during the holidays in neighborhoods all over the Tampa Area. This year a significant amount of the toys were made possible by a large donation made by Gary and Deleon Sheffield. Without Walls is still in need of more unwrapped toys, donations, and volunteers for this event as they plan to help 500 families during this event this coming Saturday. Without Walls will also be providing games, activities, children's church programs and more at the event from 11:00AM - 12:30PM.
If you would like to participate by making a donation, or donating unwrapped toys please call Without Walls at 813-879-4673 or by stopping by the church which is located at 3860 West Columbus Drive, Tampa, FL 33607. If you would like to volunteer, they are in need of volunteers on Friday, December 14th, 2012 starting at 6:00PM to prep the toys and bags of food for the Christmas Toy and Food Giveaway Extravaganza the following day. If you would like more information about services and events coming up at Without Walls International Church please call 813-879-4673 or visit the website http://www.withoutwalls.org or follow on facebook at http://www.facebook.com/withoutwallstampa.
About Without Walls International Church
Without Walls International Church is a thriving non-denominational mega church co-founded in 1991. Without Walls is known for its diversity and inner city outreaches in Tampa, Florida and around the nation. Without Walls is dedicated to evangelism and restoration while tearing down the walls of racism and poverty and equipping men, women, and children with practical teachings that will position them to fulfill their God given vision and purpose.
For more information please contact ARL Marketing & Public Relations at 954-600-3154 or via email at: andrew@arlmarketing.com for media coverage, donations, and interview requests.