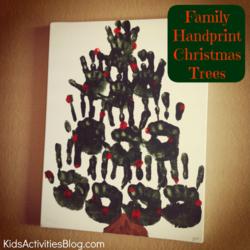 Make keepsakes during the holidays with the entire family that will turn into treasured memories for years to come.
Dallas, Texas (PRWEB) December 25, 2012
Family-oriented December activities are the latest topics Moms are blogging about on Kids Activities Blog.
Family art projects turn into keepsakes for years to come. The cute Handprint Christmas tree is a perfect family activity during the holidays. Get the kids involved together with the grandparents. Materials needed are a large canvas (or two for the grandparents), green and brown paint, a brush, and a red marker.
Let the youngest kids start with making a green hand print on the top of the canvas. Follow with handprints from the smallest to the largest. At the bottom, paint a tree stump and decorate the Christmas tree by painting red balls with markers. For complete instructions on how to make the handprint tree check out Kids Activities Blog.
Another great handprint art project is making owls. The kids will love to make these owls together with the grandparents. Making the handprint owls is simple. Let each family member make a handprint on a canvas forming a row of handprints. Turn the canvas upsidedown and follow the instuctions on how to paint a branch and other decorations around the owls.
These and other sweet family-oriented projects are featured on Kids Activities Blog during December. Come get inspired to create treasured keepsakes for years to come.
About Kids Activities Blog
Kids Activities Blog is a website created by two moms (who collectively have 9 children), Rachel Miller and Holly Homer from June Cleaver Nirvana. It is their daily goal to inspire parents and teachers to play with kids. This interactive website publishes simple things to do with kids twice a day. Kids Activities Blog is a great tool for moms and teachers to find kid-friendly activities that create memories and sneak learning into the fun.