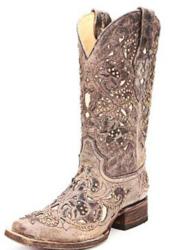 "Pinterest users are the new social media revenue drivers." Charlotte Magno, SMO at SEOTA
Lubbock, TX (PRWEB) December 15, 2012
Lubbock, TX based internet retailer Boot City has witnessed a huge increase in internet sales that originated from Social Media Sites such as Pinterest and Facebook. Sales that originated from Pinterest were up 158% year over year.
Social Media has become a top line revenue driver for this small business- all of the social media traffic driving cowboy boot sales at Boot City is organic. Organic traffic is traffic created by the consumer with little or no prompting from Boot City.
Social Influencers can drive traffic
A single users Pinterest post generated over 1,200 unique visits to Bootcity.com. The post was of Corral Boots with Brass Stud Inlays. Pay-to-click advertising for that same boot ranges from $.48-1.25 per click depending on the network.
Facebook traffic is down despite larger social network
Bootcity.com has grown their Facebook community from 3500 fans to over 6,500 fans and revenue from Facebook traffic on Boot City was up but overall the traffic and engagement from the Bootcity.com Facebook page was down significantly.
Boot City plans to spend more resources and time cultivating social media and social networks in 2013, their internet marketing partner SEOTA is already laying the ground work to help Boot City to continue to grow their social platform.