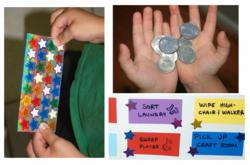 It is important to teach kids financial responsibility at a young age.
Dallas, TX (PRWEB) December 29, 2012
Chore charts and allowance money are great tools to teach the youngsters about the value of money. It is important to start teaching kids at a young age how to earn money, save money, and spend it wisely.
Making a chore chart is easy. Materials needed are paint chips, sheet protector, dry erase markers, and some fun stickers. Make up a list of chores that have to be completed in the house. Assemble the paint chips and sheet protectors to create a wipe off chart. Copy the chore list onto the paint chips and ready is the chart.
Kids will place a sticker on each paint chip upon completion of the chore and can earn their money at the end of each week. Earning nickels for each chore will also help the kids counting by fives.
Kids Activities Blog is featuring also a resourceful kids and money educational chart divided by early years, middle years, and teenage years. Each developmental milestone, another money concept is taught and will allow for financial decision making according to the child's age.
Some of the suggestions include being a financial role model, getting kids involved in vacation planning, matching contributions to the piggy bank, playing a stock market game, and getting the kids involved in opening up the college savings fund.
These and other essential financial tips are currently featured on Kids Activities Blog. Get the kids started on the right track in the upcoming New Year.
About Kids Activities Blog
Kids Activities Blog is a website created by two moms (who collectively have 9 children), Rachel Miller and Holly Homer from June Cleaver Nirvana. It is their daily goal to inspire parents and teachers to play with kids. This interactive website publishes simple things to do with kids twice a day. Kids Activities Blog is a great tool for moms and teachers to find kid-friendly activities that create memories and sneak learning into the fun.