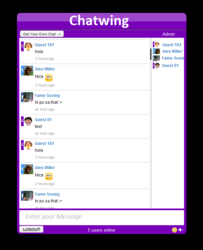 San Francisco, CA (PRWEB) December 17, 2012
Many professionals are now relying on the modern-day advantage offered by online webinars. Through webinars, people are able to get information from online businesses. Chatwing.com recently focused on the betterment of the webinar sector by introducing a chat box that can entertain a website's visitors on a daily basis. Chatwing's recent chatroom tool allows multiple moderator setup, full customization, MP3 link upload, and full admin parameters.
The chat widget can be customized in many ways possible. There are different colors to choose from, and sizes can even be adjusted to fit in the website. Chatwing's developers have advised people to mix and match colors so they can find the right theme of the shoutbox. As part of the customization package, Chatwing.com offers a background image upload option. Users can input a background image link to set the 'visual mood' of the chatroom.
Webinar makers can utilize the communication potential offered by the chatbox. Through the Chatwing chatroom, webinar attendees can post their questions, suggestions, and comments. The webinar maker can answer these questions directly, or they can even post necessary updates in the chatroom. Webinar makers can even upload an MP3 song link in the chatroom. The song can provide entertainment for all visitors.
Chatwing.com has also added a spectrum of admin functions to the chat widget. These functions range from word filter parameters, an efficient banning system, one-click message deletion, and social media login selections. One of Chatwing's goals is to provide full access to any chatroom admin and user.
About Chatwing.com
Chatwing.com specializes in the new field of website chat. Over years, the team has introduced live chat widget for hundreds and thousands of blogs. The Chatwing application bridges people from many parts of the world, creating global synergy through the Internet. The shout box can be installed in just seconds, and it can be used for varying purposes such as leisure and Internet marketing. It also allows a user to customize the size, color, and name of the widget. The shoutbox is 100% free for everyone.