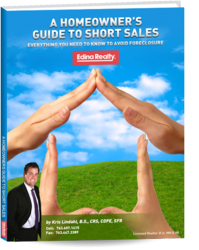 The loss of all of a homeowner's ownership rights of a property is what foreclosure eventually can result in
Blaine, MN (PRWEB) December 13, 2012
"Many homeowners want to know what their best option is when it comes to short sale versus foreclosure," Kris Lindahl, a real estate agent that has experience with US Bank, explains. "That is why I published information to provide answers to this commonly asked question," Kris Lindahl adds. The new information follows.
"The loss of all of a homeowner's ownership rights of a property is what foreclosure eventually can result in," Kris Lindahl explains. "Many homeowners faced with foreclosure do not realize what to do and they delay too long a time prior to trying to halt the proceedings. Homeowners should start thinking about a short sale versus a foreclosure as soon as possible," Kris Lindahl says.
"In considering a short sale versus foreclosure homeowners should know that after the sheriffs sale in what is called the redemption period, the person who defaulted might be able to regain the home through paying every loan payment that is due in addition to any fees produced during the proceedings to foreclose upon the house. That is a big consideration in looking at a short sale versus a foreclosure," explains Kris Lindahl.
Kris Lindahl, the #1 Edina Realty Short Sale Agent, says, "What often leads to weighing a short sale versus a foreclosure is that keeping up with regular mortgage loan responsibilities became a financial issue." Kris Lindahl continues to explain, "Requests from homeowners who have mortgage payment problems has resulted in many lenders finding themselves now swamped by requests for a short sale approval. When comparing a short sale versus a foreclosure consider that a mortgage loan can be paid up for less than the money that is due with a short sale proceeding."
Kris Lindahl has recently received the Chairman's Award from Edina Realty for excellence in sales and sales volume. "It's a combination of hard work and technological expertise. I consider myself an Internet Marketing Specialist," Kris Lindahl says, and continues,"When buying or selling a home it is important to have the best technological tools at your disposal, and with me as your agent I can guarantee that's exactly what you'll have."
Kris Lindahl has created several online resources including three short sale calculators, a free-to-download eBook, and a video series on YouTube. Download the eBook "A Homeowner's Guide To Short Sales" for free. Call Kris Lindahl and the Kris Lindahl Team at (763) 607-1415 for more information. Check out the Video Series on YouTube and visit the Kris Lindahl website for personalized help.