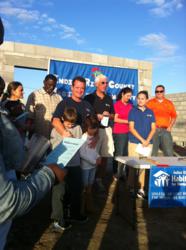 This is a great gift to give this holiday season.
Vero Beach, FL- (PRWEB) December 14, 2012
There were several swollen thumbs over the past weekend, as more than 25 employees and their families came out to help start construction on Girard Equipment's first Habitat for Humanity home. The home, which will belong to the Ealy family, is located in Gifford close to the Girard Equipment manufacturing facility and in the neighborhood of many of Girard's employees. The large group worked in two shifts starting at 7:30am until noon and named themselves the "G" Crew.
"It feels great to give back but to see the excitement on my guys' faces to help out a fellow neighbor really shows me that this is a great gift to give this holiday season," explains Girard Equipment President, Timothy Girard.
By sponsoring the house build and providing the men to voluntarily do the physical work for a minimum of 200 hours, Girard Equipment is participating in the CCTCP Program. The program Community Contribution Tax Credit Program (CCTCP) enables corporations to provide refund monies to the Habitat organization based on assessed land and net values of the property. It is a worthwhile incentive that evokes volunteerism and generosity.
Always showing appreciation for hard work, Mr. Girard had an "after-build company luncheon" hosted by a local barbeque restaurant where the large group of Girard Equipment shared stories, food, and compared wounded thumbs.
Returning at the end of January, the "G" Crew will be able to complete their scope of 200 hours for the program and will be present upon the ribbon cutting anticipated for early February; for additional pictures and to keep up with all the events and news on Girard Equipment Inc. visit http://www.girardequip.com.