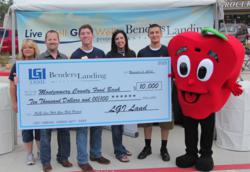 "There is a responsibility that comes from our success and giving back is in our roots. The Live Well Give Well Project allows us to express our comm
Spring, TX (PRWEB) December 18, 2012
As part of their greater community initiative, Benders Landing Estates, an LGI Land development, launched the "Live Well Give Well Project" in September of 2012. The dedicated project partners Benders Landing Estates with local businesses and non-profit organizations with the common goal of building awareness, education and support for local charities. Through the project, Benders Landing Estates donates a minimum of $1,000 to a featured charity benefactor, with an additional donation opportunity of $1,000 for every sale made at Benders Landing Estates during the corresponding time period.
"Our objective is to be deliberate in creating solutions for the challenges that face our local charities. There is a responsibility that comes from our success and giving back is in our roots. The Live Well Give Well Project allows us to express our commitment to our community and make a meaningful impact that reflects our values as a company. The project has given the opportunity for our employees, affiliates and partners to become engaged.... to take action and make a difference." says Chris Wren, President of LGI Land.
There have been many supporters of this program; sponsorship and participation have allowed Benders Landing Estates to maximize the program's impact. The company has exceeded their donation goals and looks brightly toward furthering their community connection. Executive Director, Sean-Michael Hazuda, of the Montgomery County Food Bank, says, "We are very thankful for our strong partnership with Benders Landing Estates. Their commitment to our great community through generous donations to the Montgomery County Food Bank will help us feed thousands of children, adults and seniors for the holidays. Bender's Landing Estates is a clear leader in the fight to end hunger in Montgomery County."
About Benders Landing Estates and LGI Land
Benders Landing Estates, an LGI Land development, is a beautiful acreage homesite community located in Spring, TX. One to two acre homesites in Benders Landing Estates offer residents the unique opportunity of city living amenities in a country setting. This is the only acreage community in North Houston with quick access to the toll road, airport, downtown and other local amenities such as The Woodlands Mall, multiple golf courses, Town Center business center, Cynthia Woods Mitchell Pavilion and much more. Residents also enjoy some of the lowest tax rates in the county within the most desired school districts.
LGI Land's core business is to offer acreage properties that enhance their customers' quality of life and increase value. With more than 12,000 acres in their portfolio, they are proud to say that LGI continues the tradition of excellence in everything they do. Since their first acreage homesite community in Magnolia, Texas in 1995, LGI Land has grown from a respected local land developer into a nationally recognized corporation.
Past Charity Benefactors of the Live Well Give Well Project at Benders Landing Estates: Montgomery County Women's Center, Montgomery County Food Bank
Next Live Well Give Well Event at Benders Landing Estates benefiting New Danville
Date & Time: Saturday, February 2, 2012 * 11:00a.m. to 4:00p.m.
Event Location: Benders Landing Estates – Information Center
3440 Riley Fuzzel Road – Spring, Texas 77386
Location map: http://goo.gl/maps/YkBhp
For a full calendar and information, please visit: http://www.benderslandingestates.com/LWGW
Or call: 281.364.7440 x259