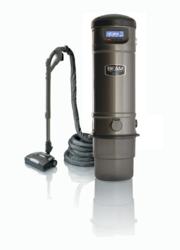 Our consistent top-quality ratings reflect the outstanding experience builders and their buyers have had with their BEAM Central Vacuum Systems.
Charlotte, N.C. (PRWEB) December 14, 2012
BEAM by Electrolux is the most frequently chosen brand of central vacuum systems installed in new homes, according to a survey of builders, developers and contractors by Hanley Wood, the publisher of BUILDER magazine. Builders also rated BEAM as the highest quality central vacuum systems for the ninth year in a row.
Twenty percent of builders and contractors surveyed have installed BEAM systems in new homes during the past two years, up from16 percent a year ago. Respondents also rated the quality of central vacuum brands on a scale of one to seven, with seven rating of excellent. BEAM earned an average score of 5.89, up 0.24 point from a year ago and 0.33 percentage points higher than its nearest competitor.
"Our consistent top-quality ratings reflect the outstanding experience builders and their buyers have had with their BEAM Central Vacuum Systems," says Brian Campbell, Brand and Trade Marketing Manager. "They know their systems will deliver excellent performance every time."
The survey was conducted from early August through September to determine respondents' familiarity, usage and opinions of brands in 70 product categories.
"Homebuilders continue to rely on strong brands to help them differentiate and sell homes to a more discerning homebuyer," said Jeff Calore, BUILDER Group Publisher. "Beyond having a strong brand position, building products have to perform to a higher standard, as evidenced by builders' ranking 'product performance' as their No. 1 criterion for the brands they use most. Manufacturers that can powerfully demonstrate product performance, communicate new product features and leverage their brand leadership position to homebuilders stand to capture disproportionately more volume as the market continues its recovery."
Because BEAM Central Vacuum Systems are clinically proven to relieve allergies they became one of the first products to earn Green Approved certification by the National Association of Homebuilders (NAHB) Research Center. Installing a BEAM system also helps builders meet indoor air quality requirements under the NAHB's National Green Building Standards and the U.S. Green Building Council's LEED for Homes Program.
"Improving the air quality inside the home is critically important for the growing number of builders who build green homes and the consumers who buy them," adds Campbell.
For more information about the National Green Building Standards and BEAM Central Vacuum Systems by Electrolux, visit http://www.beam.com.
###
About Electrolux Central Vacuum Systems
Electrolux Central Vacuum Systems is the world's leading producer and marketer of built-in central vacuums. The company's BEAM, Electrolux and Eureka Central Vacuum Systems are sold in 50 countries around the world. Electrolux Central Vacuum Systems is a division of Electrolux Home Care Products North America.
About BUILDER
Published by Hanley Wood, BUILDER is the leading brand in the residential construction industry and serves as the magazine of the National Association of Home Builders (NAHB). For more than three decades, BUILDER has provided essential news, information and resources about products, technologies, trends, regulatory requirements and best practices to help home building professionals innovate for success. With an integrated platform encompassing print, online and in-person, BUILDER is a trusted source for top builders, architects and other industry professionals across the country.
About Hanley Wood
Hanley Wood, LLC is the premier media, information and marketing services company serving the residential, commercial design and construction industries. Through its operating platforms, the company produces award-winning digital and print publications, e-Newsletters, websites, marquee trade shows and events, market intelligence data and custom marketing solutions. The company also is North America's leading publisher of home plans.