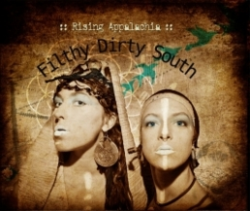 Rising Appalachia is a genre-bending force of sound that uses vocal harmony, lyrical prowess and diverse artistic collaborations to defy cultural clichés and ignite a musical revolution...
New Orleans, LA (PRWEB) December 19, 2012
[Rising Appalachia http://www.risingappalachia.com are sisters Leah and Chloe Smith. "Dirty Filthy South" is their latest release and the first accompanying DVD "Live from Echo Mountain" which is the video from the recording sessions.
Listen to their beautiful sound for poetic harmonies, soul singing, spoken word rallies, banjos, fiddles, many beats of drums, kalimbas, washboard rants, groove, and community building through SOUND. With a host of versatile collaborators on board expect anything from trumpet to beatboxing, poets to trapeze, and circus to burlesque. Rising Appalachia uses sound as a tool to spark a cultural evolution and birth a new movement, creating soul sounds for us all....
Having toured over 14,000 miles across the United States and gracing many stages around the world, their tours have taken them across Europe, through the Caribbean, into Central America, into the Indian subcontinent, and across the United States- making sacred sounds and elaborate stages wherever they go. They are creatively committed to keeping their work accessible at the local street level as well as expanding to larger audiences abroad, and have continued to maintain autonomy by self-managing, recording, producing, creating, and directing their work.
Their performances have included an array of events including the Kennedy Center in Washington DC, National Public Radio All Songs Considered, The School of Americas Vigil, Nunez Arts Festival New Orleans, Emory University Schwartz Center, The Floyd Festival, The Beacon Theater NYC, The Lake Eden Arts Festival, Radio Popular Italy, Guerilla Radio Amsterdam, The Edinburgh Fringe Festival, The Highlander Center 75th Reunion, and many more. __title__ Rising appalachia]