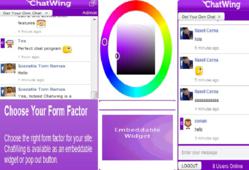 San Francisco, CA (PRWEB) December 15, 2012
Global information is, perhaps, the most important reason why people are always engaging in website chat. Chatwing.com is scaling up its level of service by offering an informative website chat experience through its newest chat box application. The chatroom improves anyone's website chat experience by creating a 'bridge' of connectivity that can be accessed anytime.
The simple chatbox can be used in any niche possible. This is because of the fact that niches need websites to reach people. Oftentimes, people tend to hop from one website to another, hoping to get the information that they truly need. The chatroom can ease up the process by creating a visible network of people. In the Chatwing shoutbox, visitors can share links and even send social media invitations to each other.
Since the chat widget is people-oriented, many online marketers have started using it for their online expansions and soft launch campaigns. Online entrepreneurs can also use the Chatwing chat app to discuss the vital points of their products and services. In this way, the visitors of the chatroom can ask questions. These visitors can now reap information directly from the website owner. This saves ample searching and waiting time.
Chatwing.com has started introducing the free chat widget to forums and podcasting communities. Through that strategic expansion, thousands of web users can now engage in lively conversations and get information in real-time. The chat tool can also be used to improve website visibility twofold.
About Chatwing.com
Chatwing.com specializes in the new field of website chat. Over years, the company has introduced a live chat widget for hundreds and thousands of blogs. The application bridges people from many parts of the world, creating global synergy through the Internet. The shout box can be installed in just seconds, and it can be used for varying purposes such as leisure and Internet marketing. It also allows a user to customize the size, color, and name of the widget. The chatroom app is 100% free for everyone.