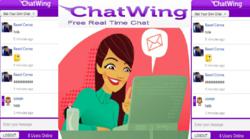 San Francisco, CA (PRWEB) December 15, 2012
Sports discussions are becoming rampant in many websites today, based on the research done by Chatwing Team. The company's developers have used the research as template for its advancement in sports enthusiasts' websites. With Chatwing's recent chat software, sports enthusiasts can now discuss their favourite sports, athletes, sports controversies, sports management, and many more.
Chatwing.com's newest chat box is built on speed, precision, and user accessibility. Sports website owners can install the Chatwing chatroom app and create lively discussions with visitors. The website owners can even ask suggestions from their visitors. Chatwing's developers have noticed that the most famous sports being discussed are baseball, basketball, soccer, American football, boxing, and golf.
Installation of the chat widget is an easy process. Users just need to input their websites' domain name and email address. After that, they can now proceed to the dashboard and start a detailed customization process. Sports website owners can modify the colors of the chatroom to make it lively and synchronize it with the website. Other admin functions include word filters, login options, and a banning system.
Chatwing.com and its team of developers will also continue improving the chat widget. In this way, more users can engage in interesting conversations. Aside from that, information can travel precisely. For website owners who are after online presence, the chatroom can provide boosts of traffic on a regular basis.
About Chatwing.com
Chatwing.com specializes in the new field of website chat. Over years, the team has introduced live chat widget for hundreds and thousands of blogs. The Chatwing application bridges people from many parts of the world, creating global synergy through the Internet. The shout box can be installed in just seconds, and it can be used for varying purposes such as leisure and Internet marketing. It also allows a user to customize the size, color, and name of the widget. The chatbox is 100% free for everyone.