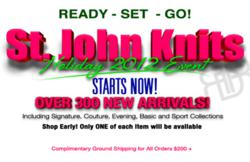 Shopping consignment online is a bit easier especially with a site like ours, which has the capability to narrow items down according to size, style, color and price range.
(PRWEB) December 13, 2012
Rodeo Drive Resale (http://www.shoprdr.com), premier reseller of 100% authentic guaranteed handbags and other designer pieces such as discount St. John Knits, Gucci heels and Fendi handbags, reminds shoppers that online stores such as shopRDR.com are not only light on the wallet, but good for the environment, particularly during it's St. John Knits holiday sale, which offers discounts on clothing and shipping.
While blog sites such as eco-chick.com and organicfashionblog.com promote popular organic trends and fashions, upscale clothing and accessory lovers who buy pre-owned items help are also part of the green movement, as their purchases routinely help keep used clothing out of the nation's already overflowing landfills.
As environmentalists and other social groups urge Americans to consider the effects their carbon footprint will have on future generations, giving a second life to a previously worn item is, for many, a fun and fashionable way to help Mother Earth. Those looking grab great deals on pre-owned items from the most popular labels in designer fashion may want to consider consignment stores such as ShopRDR.com, an online reseller with over 10 years of experience buying and selling designer fashion over the web.
Like thrift shops and charities, consignment stores are packed with pre-owned clothing; but since consignment stores are typically stricter on the quality and type of clothing they are willing to accept, shoppers are more likely to walk away with a winning piece that is 100% authentic and still in like-new condition.
For those new to consignment shopping, ShopRDR.com co-founder Raya Jaffer suggests setting aside enough time to dig for a winning piece: "Go with plenty of time to look. Unlike a regular retail store that may have a handful of styles in multiple sizes, a consignment store is going to have multiple styles but not a limited number of sizes. You will need time to browse hundreds, or sometimes thousands, of individual items. Shopping consignment online is a bit easier especially with a site like ours, which has the capability to narrow items down according to size, style, color and price range."
While deals from the popular online reseller are available year round, shopRDR.com is currently promoting its St. John Knits holiday campaign with over 300 new arrivals, huge savings and complimentary shipping on all orders of $200 or more. It's St. John sale is just one way for shoppers to go green while saving money on luxury fashion.
While purchasing pre-owned items from consignment stores such as ShopRDR.com may not save the world, ensuring items such as pants, tops and handbags and accessories remain in the fashion loop and out of landfills is a great way to help show the planet you care.
Rodeo Drive Resale (shopRDR.com) has built a reputation of providing amazing deals on handbags, clothing and accessories from the top designers of upscale fashion. The company offers a 100% guarantee of authenticity on each item sold, and works daily with a network of clients looking to buy, sell, or for consignment of their luxury goods.
ShopRDR.com loves high-end fashion, and believes finding a high quality, classic piece should be an easy, enjoyable -- and most importantly -- hassle-free shopping experience. For the finest in Louis Vuitton, Chanel, Prada, Gucci, St. John Knits, Christian Louboutin, Tiffany & Co. and more, visit RDR online at http://www.shopRDR.com or call 1-888-697-3725. Also find shopRDR.com's blog at http://blog.shopRDR.com.
Also find shopRDR at:
Blog: blog.shopRDR.com
Facebook: facebook.com/shopRDR
Twitter: twitter.com/shopRDR
YouTube: youtube.com/ shopRDR
Pinterest: pinterest.com/shopRDR
Rodeo Drive Resale (shopRDR.com)
1-888-697-3725
service(at)shopRDR.com