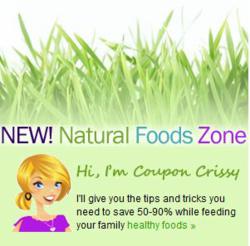 "Here at FreeCoupons.com, we believe that eating well should be easy and affordable."
Avila Beach, CA (PRWEB) December 17, 2012
The new Natural Foods Zone at FreeCoupons.com offers a resource for printable coupons for healthy, all-natural brands. Consumers want to provide delicious, nutritious meals for the household without spending a fortune. FreeCoupons.com has printable coupons for the best natural and organic brands on the market today with step by step guides for making healthy living affordable to any grocery budget.
Weekly Deals and Savings
Weekly blogs highlight organic and all-natural printable coupons, matchups for Whole Foods grocery store deals, as well as weekly email updates for even more Natural Food deals highlighting freebies, specials and promotions for natural and organic brands.
Searchable Index of Natural Foods Companies
A searchable index of Natural Foods companies provides information on Natural Foods brands. New natural and organic brands are added weekly to this directory.
Beginner's Guide to Natural Food Savings
Coupon Crissy educates consumers on how and where to find the best deals and coupons for healthy, organic, and environmentally conscious brands, including a Beginner's Guide on how to start eating organic and how to save on GMO-free, organic, and gluten free products. Her continuing series called "Eating Well on a Budget" highlights how to get the most out of any grocery budget while still enjoying the benefits of organic foods in the household.
"Here at FreeCoupons.com, we believe that eating well should be easy and affordable. That's why we'll break down the food categories into individual posts to not only teach you how to save some money, but to inform you about the health and nutritional benefits you'll get from your favorite foods."
FreeCoupons.com is the free grocery coupon authority, providing printable online grocery coupons since 2008.