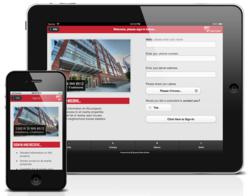 Washington, DC (PRWEB) December 14, 2012
Leading independent, Washington DC brokerage firm M Squared Real Estate, introduces Open House Touch, a mobile responsive web application for open house management.
Open House Touch launches as a major upgrade to the company's app-less open house management software launched last year.  Open House Touch, runs on all touch-based smartphones and tablets, as well as Chromebooks. Because it's a webapp, M Squared consultants need only click a link and the software installs on their device. No app stores, no confusing downloads.
Besides increased device compatibility, Open House Touch goes beyond simple visitor registration, acting as a control panel during the open house. The real estate consultant now has one-touch access to advanced tools and resources to better communicate with and retain their visitors, including: detailed listing information, nearby comparative properties, nearby open houses, and a neighborhood market/housing report.
All information and data shared using the app, is done so in a mobile-friendly format that your visitor can use while he/she is out and about, looking at properties.
After a visitor registers using the software, he/she receives an email with property and neighborhood links to assist them with their real estate search, including: Detailed Property Information; Property Brochure; Property Virtual Tour; Nearby Comparative Properties; Nearby Open Houses; and, a Neighborhood Market Report.
As the agent, you receive an email with the visitor's information for each registration, as well as a full report of all visits in Adobe Acrobat (.pdf) format following the conclusion of your open house.
Open House Touch assigns itself to the agent holding the open house, not the listing agent, making it perfect for teams and buyer agents, who routinely share the responsibility of holding properties open.
Open House Touch was developed by M Squared Real Estate and is provided for all company listings.