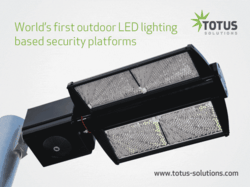 The TOTUS Technology™ is a purpose-built platform. It can be deployed and integrated into existing infrastructure, or replace legacy systems with a single integrated solution…
Austin, TEXAS (PRWEB) December 17, 2012
TOTUS Solutions™, Inc. announced the addition of three seasoned technology executives to its management team. The company also announced the opening of its new headquarters in Austin, TX.
In December, John B. Hanby was named SVP of Worldwide Sales, Per Hanssen, VP of System Solutions and Paula Gill, VP of Service Delivery. TOTUS Solutions is the leading provider of Outdoor Lighting Based Security Platforms with a focus on unparalleled Active Deterrence™.
Commenting on the announcement, Gregory G. Williams, President and CEO of TOTUS Solutions™ stated, "This team's experience and expertise with a track record for execution across the Telecommunications, Wireless, and the Electronic Security Industries will continue the company's momentum in creating industry leading security solutions and services to TOTUS™ Reseller Customers and End Users."
Hanby joins TOTUS™ from AMX where he was the VP of Government Sales and has 25 years of experience in a variety of senior executive positions. Prior to AMX, he worked at Dell, Lockheed Martin, TRW, and PGi and has lead significant sales growth in Global Commercial Accounts, Large Corporate Accounts, Department of Defense, Civilian, and Intelligence Agencies.
"The TOTUS Technology™ is a purpose-built IP based High Definition Surveillance, LED Lighting, and Communications Platform. It can be deployed and integrated into existing infrastructure, or replace legacy systems with a single integrated solution…based on customer feedback, it is a knockout punch from a TCO and ROIC perspective," said Mr. Hanby, SVP of Worldwide Sales.
Gill has over 35 years of experience in telecommunication industry with both Public and Private companies including SBC, AT&T, Prodigy, and Wayport. Paula held several leadership positions in operational capacities including international assignments.
"With my vast experience in the telecommunications industry, I bring strong customer service values to TOTUS™ and will build an organization that provides the type of technical and customer focused solutions based support that customers value in the lighting and security industry. The service delivery organization at TOTUS™ is excited about supporting the distributors, resellers, and system integrators who are key to the future growth of this business" said Paula Gill, VP of Service Delivery.
Hanssen joins TOTUS™ from Salient Systems, a leader in Video Management Solutions, where he was the Co-Founder and CTO and has over 20 years of technology and corporate leadership experience in technology based companies. Per was also the Chair of the Digital Video subcommittee for Security Industry Association (SIA) standards efforts.
"I am very excited to join a great team of seasoned professionals to help accelerate the growth of the company. Not only does TOTUS™' product platform provide great situational awareness as a security solution, but it can also provide security using wireless connectivity to locations where it is impossible or very difficult to provide network connectivity today. TOTUS™' basic platform is an exceptionally engineered lighting platform designed for a superior life cycle and superior light quality, providing significant energy and maintenance savings." said Per Hanssen, VP of System Solutions.
About TOTUS Solutions:
TOTUS Solutions™ is the leading provider of Outdoor Lighting Based Security Platforms. Unlike traditional surveillance systems, TOTUS Security Platforms™ incorporates optimized LED lighting, complete megapixel IP video surveillance, multi-day media storage, and secure wireless communications with event action processing to provide unparalleled Active Deterrence™. TOTUS Security Platforms™ also provide up to 70% energy savings versus the legacy streetlights. TOTUS Security Platforms™ are currently used in over 2,600 deployments and more than a hundred applications worldwide, operating over conventional IP networks and leverage existing IT infrastructure. TOTUS Security Platforms™ awarded as Security's Best by ASIS Accolades and received Top Innovative Technology Honor from Security Sales and Integration.
For More Information, Contact:
Esra Pope, TOTUS Solutions™- epope(at)totus-solutions(dot)com- http://www.totus-solutions.com