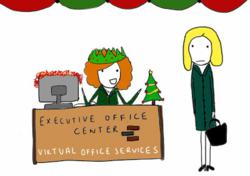 Could we interest you in a virtual boyfriend for the holidays perhaps? Someone to bring home with you when you visit your family, so they don't torture you about the fact that you're still single?
Fresh Meadows, Queens (PRWEB UK) 17 December 2012
Jack Blumner, Executive Director of the The Executive Office Center at Fresh Meadows, which opened in Queens New York a little more than two years ago, has started a blog about virtual offices that is sure to tickle the funny bone, called Virtual Office Laughs. The blog is illustrated by Rebecca Church, a talented young artist in Lancashire.
Mr. Blumner is also the author the Executive Office Center Discourse on Business and another brand new humor blog, called I Gave Him the Best Weeks of My Life which is about "Dating, Love, Relationships, and Romance, and all the Associated Anguish."
The Executive Office Center serves many British clients with business interests in New York. It is the closest executive suite center to JFK International Airport.
Why did I create a humor blog about virtual offices? Well, this fall has been a particularly challenging time for residents of Queens because of Hurricane Sandy," said Mr. Blumner. "Many people lost their homes. Others were without electricity for weeks. And all of us had to deal with the shortage of gasoline. There was a lot of misery going around. There was a need for laughter. I know this isn't the antidote to all that suffering, but at least it has made some people laugh, and when you're laughing, you can't be angry, sad or frustrated."
"In the days after Hurricane Sandy, we took a lot of calls from businesses that had been displaced by the storm. Virtual offices are perfect for people with short term, as well as long term needs, so we were able to help them."
Mr. Blumner believes that virtual office services and serviced office space are quickly becoming a favored alternative to traditional work space across the globe. "It is such a practical and cost-effective rental option for small businesses, it is just a matter of time before it changes the office rental marketplace forever," he said.
"The blog is another way of increasing awareness of the services we provide. If I can do that, and make people laugh at the same time, I'll consider it a job well done."
About the Executive Office Center at Fresh Meadows:
The Executive Office Center at Fresh Meadows, located in Queens, New York, offers two economical alternatives to traditional office space - serviced office space and virtual office services. New York. It is perfect for European companies that would like to establish a presence in New York at a nominal cost. Day suites and conference rooms are also available to business travelers to New York at hourly, daily and weekly rates.
For further information, visit the Executive Office Center at http://executiveofficefm.com/, or call Associate Director, Mary Abrams, at 718-475-2121.