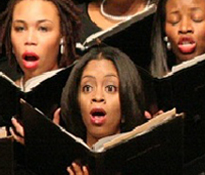 "We believe our presence at the 57th Inauguration of the President of the United States will be a fitting example of the energy, vitality and seriousness of the young people who played such a vital role in this election."
ATLANTA (PRWEB) December 13, 2012
Visibly inspired, First Lady Michelle Obama and global media leader Oprah Winfrey both gave the Spelman College Glee Club a standing ovation when they heard them perform their commanding signature song "A Choice to Change the World." Hoping to get the same reaction from President Barack Obama and the nation, the 50-member choir has launched a video campaign with the goal of securing a performance slot at the 2013 Presidential Inauguration on Jan. 21, 2013.
"The Glee Club initiated this campaign because we believe our song expresses the core of what Obama's presidency is all about – hope, change and forward movement," said Kevin Johnson, director, Spelman College Glee Club. "We believe that our presence at the 57th Inauguration of the President of the United States will be a fitting example of the energy, vitality and seriousness of the young people who played such a vital role in this election."
With profound lyrics such as "The shoulders that I stand upon never received applause or fame, but in their honor I will live each day better than before and show just how it takes a choice to change yourself and so much more," the song captures the sentiment of the inaugural theme, "Faith in America's Future."
Along with a written correspondence to the Joint Congressional Committee on Inaugural Ceremonies and other White House representatives, the glee club submitted a video proposal which highlights how "A Choice to Change the World" embodies the Spelman mission of empowering women to excel intellectually, act globally and lead boldly as well as President Obama's vision of forward movement through meaningful change.The choir is also asking the public to support their campaign by viewing, liking and sharing the video proposal as well as reaching out to their congressional representatives to inform them of their interest in seeing the group perform at this historic event.
"President Obama's presidency means change and growth," said Kirstie Bronner, C'2013, Spelman College Glee Club member. "Combining positive political change with the personal change that he ignites in others is a powerful tool of growth for our nation."
In both 2008 and 2012, Spelman College students actively participated in voter education and registration initiatives by hosting debate watch parties and taking voters to the polls. By performing "A Choice to Change the World" at the 2013 Presidential Inauguration, Spelman students will once again bring attention to how committing to positive change inspires and creates a better world.
About Spelman College
Founded in 1881, Spelman College is a highly selective, liberal arts college widely recognized as the global leader in the education of women of African descent. Located in Atlanta, Ga., the college's picturesque campus is home to 2,100 students. Outstanding alumnae include Children's Defense Fund founder Marian Wright Edelman; Sam's Club CEO Rosalind Brewer; JPMorgan Chase Foundation President Kimberly Davis; former acting Surgeon General and Spelman's first alumna President Audrey Forbes Manley; Harvard College Dean Evelyn Hammonds; author Pearl Cleage; and actress LaTanya Richardson Jackson. For more information, visit http://www.spelman.edu.