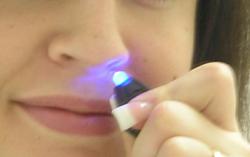 UV-Technology's UV-Aid helps prevent the common cold, flu,and ear infections, safely and effectively by using the biomimicry strategy of photo-oxidation.
Fort Myers, Florida (PRWEB) December 18, 2012
Winner of the 2010 Earth Award, AskNature.Org is the online inspiration source for the biomimicry community.
What exactly is biomimicry? Biomimicry (from bios, meaning life, and mimesis, meaning to imitate) is a design discipline that seeks sustainable solutions by emulating nature's time-tested patterns and strategies. The basic concept is that nature has already solved many of the issues the world is dealing with today – such as disease control. food production, transportation, energy, and much more.
UV-Technology's UV-Aid helps prevent the common cold, flu, and ear infections, safely and effectively by using UVA light to kill germs in the ear, nose, and oral passages where air-borne infections start. When skin is exposed to UVA light hydrogen peroxide is produced through a natural process called photo-oxidation. Hydrogen peroxide safely kills germs, and also signals white blood cells for additional long term protection.
UV-Aid is a powerful and useful example of what can be accomplished when man looks towards nature for solutions to seemingly impossible problems. Before the advent of UV-Aid there had been no option for the prevention the common cold or ear infections. In addition, with the revelation that flu vaccines are only effective 59% of the time, and overuse of antibiotics causing an alarming growth of super bugs, alternative strategies are needed.
By studying natural immune processes and clues provided by decades of information regarding outbreaks of air-borne diseases and infections, UV Technology has developed a unique photo-oxidation strategy that shows promise for the prevention of colds, flu, ear and sinus infections.
If man is to survive and thrive for another millennium we need to look to nature to help us solve problems, which is the goal of AskNature.org and is why UV-Technologies is extremely proud to be added to their list of solutions.
UV-Aid can be purchased at UV Technologies' website http://www.uvaid.com.
About UV Technology, LLC:
UV Technologies, LLC's mission is to provide the best and most innovative products for customers' health and well-being. Our company takes great pride in its commitment to customer service and in the products we sell. UV-Aid helps prevent colds, flu, sore throats, sinus, and ear infections through the process of photo-oxidation. iTanSmart is a free App. developed to help manage exposure to the sun. UV Technologies promises to bring its customers the safest and most innovative products to live a healthier, more productive life. UV Technologies is a member of the Better Business Bureau. Visit http://www.uvaid.com for more information.