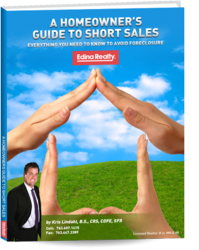 I set my goals pretty high, but this time it seems that my hard work and technological expertise has paid off in a big way
Blaine, MN (PRWEB) December 13, 2012
Kris Lindahl, the Edina Realty real estate agent who has experience with USAA, has met a month long sales goal eighteen days before the end of the month. "I set my goals pretty high, but this time it seems that my hard work and technological expertise has paid off in a big way," Kris Lindahl says, and continues,"In what is traditionally a slow month I've surpassed my mid-month and monthly sales goal in only thirteen days."
"For this reason I've begun to think about more ways to donate to local food shelves in addition to the Facebook campaign I have running right now through December 22nd," Kris Lindahl explains. Kris Lindahl and the Kris Lindahl Team specialize in working with residential real estate, first-time home buyers, and distressed property sales. The team consists of several full-time, hard working real estate agents that hold designations such as Certified Distressed Property Experts, Short Sale & Foreclosure Resources, and Council of Residential Specialists.
"I consider myself an Internet Marketing Specialist," Kris Lindahl says, and continues,"I believe that when buying or selling a home the best technological tools are absolutely necessary to smooth, fast, and easy process. With me as your agent I can guarantee that's what you'll have. I know real estate like the back of my iPad."
Kris Lindahl has recently released several online resources including three short sale calculators, one published free-to-download eBook, and a video series on YouTube. The short sale calculators allow people to check their eligibility and find personalized help from the Kris Lindahl team. The eBook, titled "A Homeowner's Guide To Short Sales" , is available for download.
Call Kris Lindahl and the Kris Lindahl team at (763) 607-1415 for more information. Check out the video series on YouTube and go to the Kris Lindahl Website for more information and personalized help.