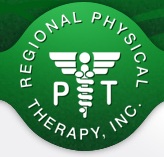 Our specialists will evaluate the person and their pain, and decide on the right exercises to help meet the patient's goals, both in the clinic and out
Midwest City, OK (PRWEB) December 17, 2012
While playing sports is healthy, fun and competitive, athletes may be at risk for injury. According to the National Center for Sports Safety, more than 3.5 million children aged 14 and under receive medical treatment for sports injuries each year (1). Regional Physical Therapy, located in Midwest City, Oklahoma, has experience with injured athletes, getting them back on their feet and back in the game.
One of the services that the Midwest City physical therapy clinic offers is manual therapy. Manual physical therapy is a specialized form of physical therapy delivered with the hands as opposed to a device or machine. For example, using the hands to put pressure on muscle tissue and manipulate joints in an attempt to decrease back pain caused by muscle spasm, muscle tension or joint dysfunction (2).
In a recent case study a college track star from Southern Nazarene University came to Regional PT. Due to a troublesome hamstring injury that wouldn't heal with other approaches, the patient wasn't able to practice fully due to pain and weakness of the muscle. During his time in physical therapy, he received specialized manual therapy to the hamstring and progressed with strengthening exercises for four weeks. He competed in a national track meet less than one week after beginning physical therapy and set a school record in the 4x100 event.
"Our manual therapy program targets the specific area of the body where the muscles and tissues are not up to par," commented Vicki Buchanan, owner of Regional PT. "Our specialists will evaluate the person and their pain, and decide on the right exercises to help meet the patient's goals, both in the clinic and out."
Each individual person or athlete going through physical therapy receives an individualized treatment plan. Exercises may be different, as well as the length of treatment.
In addition to manual therapy, Regional PT offers aquatic therapy, on-site physical therapy, comprehensive programs and massage services. For more information, visit http://www.regionalpt.com.
About Regional Physical Therapy, Inc.
Based in Midwest City, Oklahoma, Regional Physical Therapy, with over 50 years of combined experience, performs tailored, comprehensive treatment plans which are designed to fit individual needs. Regional Physical Therapy was founded in 1993 by owner Vicki Buchanan, who attended the University of Oklahoma Health Sciences Center and graduated with a degree in Physical Therapy. Dedicated to the late co-founder Bruce Hawkins, the Bruce Hawkins Scholarship award was established by Regional Physical Therapy, Inc., in 2009 to give back to the profession that Bruce was dedicated to advancing. The Bruce Hawkins Scholarship has been awarded to Oklahoma University students who show outstanding leadership characteristics and embody the spirit of dedication to the profession of physical therapy. Regional Physical Therapy uses the team approach to help patients regain lost function, with the purpose of providing high-quality physical therapy services to the community. For more information, visit http://www.regionalpt.com.
(1)Sportssafety.org. Accessed November 30, 2012. "Sports Injury Facts," http://www.sportssafety.org/sports-injury-facts/