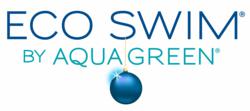 "ECO SWIM is good for your figure and better for the environment. It's one of the only swimwear collections on the market that's taking steps to lower its impact on the planet" - Kathleen Huddy, formerly of Good Housekeeping
New York, NY (PRWEB) December 14, 2012
This year major mainstream media outlets focused on green giving as a growing movement in the USA, answering the call by their viewers for more eco-friendly, made-in-America products. Yet, only the most fashionable, quality products made the cut. ECO SWIM by AQUA GREEN sustainable swimwear reached over 150 million views (unique monthly visitors, circulation rates, and video views) in 2012. Clearly editors, stylists, journalists, and bloggers are on board with ECO SWIM by AQUA GREEN's fit, fashion and mission to reduce your carbon footprint in the sand™
Media outlets understand that sustainable lifestyle brands like ECO SWIM by AQUA GREEN are just scratching the surface of their potential, and they need smart shoppers in order to become everyday household names. Thankfully, ECO SWIM by AQUA GREEN is celebrating the end to a very successful year and has more than a few key supporters already.
Kathleen Huddy, former Textile Director of Good Housekeeping had this to say: "We all like to do whatever we can to help the environment but if a so-called "green" product, whether it's household cleaner, toilet paper, or a T-shirt doesn't perform as well as the traditional version, then forget it. One item of clothing we gals definitely don't want to compromise on is a bathing suit… ECO SWIM is good for your figure and better for the environment. It's one of the only swimwear collections on the market that's taking steps to lower its impact on the planet."
The inaugural collection has been fortunate to receive features in magazines such as Oprah Magazine, InStyle, Cosmopolitan, People StyleWatch, Self, Shape, Health, Women's Health, More, Martha Stewart's Whole Living, Real Simple, and Women's Wear Daily. AQUA GREEN's announcements and beach cleanups have been picked up by news channels across the USA including CBS online, The Miami Herald, The Boston Globe, San Francisco Chronicle, Huffington Post, Examiner, Mother Nature Network, Eco News Network and over 150 fashion blogs.
ECO SWIM by AQUA GREEN is available in stores now at Aqua Beachwear, Canyon Beachwear and online at Belk, Bon Ton and ECO SWIM and later in the season at Macys, Nordstrom and Dillards.
About AQUA GREEN:
AQUA GREEN is one of the world's leading sustainable lifestyle brands, driven to provide fashionable consumer products. AQUA GREEN is based in Easton, PA and its swimsuits can be purchased at specialty and department stores as well as on select websites. For more information about AQUA GREEN's environmental leadership, swimwear and events, visit the web site and find the brand on Facebook, Twitter, and Instagram.