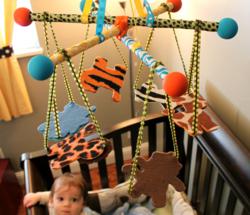 The popular Baby Bright Eyes Boutique on Etsy is now offering completely custom mobiles handmade in America for your nursery, each one designed to fit your specifications.
Colorado Springs, CO (PRWEB) December 13, 2012
A stay at home mom out of Colorado Springs, Colorado, Danielle Lynn features her unique "made in America" mobiles on the well-known internet site, Etsy, offering moms an amazing opportunity to combine design with visual stimulation for babies now at an unbeatable price for the holiday. Any order made before December 25th will receive 10% off and free gift-wrapping!
Crib mobiles are a well-known and popular nursery decor piece, but also offer something that is interesting for those little baby eyes to look at. Danielle Lynn, shop owner and designer at Baby Bright Eyes Boutique, has taken this well-known piece of decor and put a custom spin on it, no pun intended, to get those babies even more stimulated and excited about seeing the new world around them.
Scientists have discovered that a baby can start to see color differences, mostly black and white, between one and two months of age. At two months, colors start to become more clear and distinguished. At this point a mobile that is full of color, shapes and angles comes to life becoming a breathtaking spectacle for little ones. Baby Bright Eyes Boutique offers mobiles in all colors, themes and sizes to suit individual needs and preferences, making babies and parents happier than ever.
Danielle Lynn started her Etsy store after making her own son a few mobiles of his own. This grew into what is now a business that has helped her succeed in being a stay at home mom by earning an income doing something she loves and is passionate about. "Every mobile is made with detail to meet the needs of mom and baby. Rarely do I get an order that is not custom to a particular nursery which I love." Baby Bright Eyes has donated several mobiles to charity events to raise money for a good cause and continues to improve business with new mobile designs being offered to buyers. This holiday season, surprise a loved one with a beautiful American made custom mobile that is sure to be treasured for years to come.