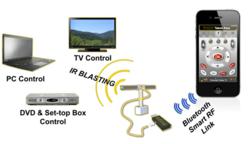 The iWavit Blast! is like having every living-room remote control, as well as your keyboard and mouse, in your pocket and immediately available on your iPhone.
San Jose, CA (PRWEB) December 15, 2012
The iWavit Blast! combines some of the best features of the earlier iWavit family of products, such as PC control, IR Blasting, and TV Guide but without the need for an accessory attached to the iPhone or iPad. As such, the Blast! will appeal to customers who want an easy, one-time set up - and then just use the apps on their iPhone or iPad whenever they want to control the TV or PC. The iWavit Blast! is available for purchase from the product website, http://www.thinkoptics.com, and Amazon. A battery pack accessory is also available for the Blast! USB dongle to plug into, which allows for its use in places where there are no wall sockets available to power the USB dongle.
"The iWavit Blast! is like having every living-room remote control, as well as your keyboard and mouse, in your pocket and immediately available on your iPhone. The era of traditional remote controls has ended," says John Sweetser, VP of Engineering at ThinkOptics. "TV and PC control is just the beginning. Virtually any type of device can potentially be connected to the Blast! and controlled or monitored by a Bluetooth SMART READY device".
The iWavit Blast! is the world's first remote control based on the low-power long-range Bluetooth® Smart RF technology. It can be used seamlessly with the latest generation of Apple iOS devices and can connect in seconds without any need for complex pin codes and pairing procedures. This Bluetooth® Smart RF link is what sets the iWavit Blast! apart from its competition. It is made possible via a new generation of Bluetooth controllers from Texas Instruments, Inc. The controller, the CC2540 system-on-chip (SoC), brings a powerful combination of a proven microcontroller design and latest Bluetooth® low energy and long range radio technology for reliable performance at a low cost.
ThinkOptics is pleased to concurrently launch a brand new application exclusively available for the iWavit Blast!, called iWavit Grill. This amazing new app, along with a compatible temperature probe (on sale at http://www.thinkoptics.com), turns the Blast!-enabled iPhone/iPod/iPad into a modern wireless food thermometer. The app, with its visually-appealing temperature controls and display, brims with features such as temperature timers and alarms, all with easy-to-use touch controls. The app even comes with access to popular recipes, and is free to download from the App Store. The iWavit Blast!, Battery Pack, and thermometer are available in the introductory "Dinner & Movie Holiday Bundle" for $59.99.
In addition to the iWavit Grill app, newer versions of several popular apps from ThinkOptics – including the flagship app, Tabula Rasa – are also being launched today to support the iWavit Blast! Besides providing universal TV and PC remote control functions, these apps also make it possible to get a quick answer to that urgent question, "What's on my TV now?" – and make it easy to switch to the show of choice with a touch. Tabula Rasa also enables more-advanced features such as the ability to create and share custom remotes and a comprehensive database of searchable and downloadable IR codes. For PC control, the iWavit Blast! HID-compatible dongle is plugged into a USB port on the PC (running Windows or Linux) or Mac and a Bluetooth connection to the iPhone/iPod/iPad is quickly established. Long range wireless keyboard and multi-touch trackpad control from the iPhone/iPod/iPad is then enabled using the iWavit Trackpad app. PS3 control is also supported from within Tabula Rasa.
Please see below the full list of the apps and accessories available at launch for the iWavit Blast!. All apps are available for immediate download from the App Store (http://www.itunes.com/appstore), starting today. The accessories may be purchased from http://www.thinkoptics.com.
Apps: iWavit Grill, iWavit TVAid, iWavit TV Pro, Tabula Rasa, Tabula Rasa HD, iWavit Trackpad
Accessories: iWavit Temperature Probe, iWavit Battery Pack, iWavit IR Lightbar, 2xIR range-booster
About ThinkOptics
ThinkOptics Inc., founded in 2004 and based in San Jose, California, is a leading edge technology company working to simplify user experiences in the increasingly complex Digital Living Room. ThinkOptics holds numerous patents on optical tracking technologies, and has created a family of embedded sensors for tracking the orientation and position of multiple objects in a room. ThinkOptics licenses its technology and also creates consumer electronic products. Their first product, the Wavit 3D Remote Control, was launched in January 2007 for controlling a PC from the sofa, and the "Made for iPhone" iWavit Accessory was launched in January 2011, which turns the iPod touch, iPhone and iPad into the Ultimate Remote Control. They currently have over 30 iPhone and iPad apps on the App Store.