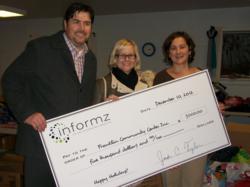 It means so much to have the support of our neighbors behind our mission. We're truly honored.
Saratoga Springs, NY (PRWEB) December 14, 2012
Informz, a leading email marketing solution for the association and nonprofit industries, announced today that the company will donate a total of $5,000 to the Franklin Community Center, a non-profit organization that provides basic necessities and services to less fortunate individuals and families in Saratoga Springs, New York.
The company, which offers an email platform that enables associations and nonprofits to send targeted email communications, also participated in the community center's Holiday Assistance Program and provided 12 local children with gifts for the holiday season. Informz employees collected gifts or donated money to purchase gifts and delivered them to the community center this week.
"This was such an overwhelming surprise! We have enjoyed the support from Informz for the past couple of years – and this year with the holiday assistance – but a $5,000 donation certainly exceeded anything we could have anticipated," said Bo Goliber, Coordinator of Development at Franklin Community Center. "It means so much to have the support of our neighbors behind our mission. We're truly honored."
"At Informz, we're committed to supporting the community and our employees share the desire to donate and help out wherever possible," said Joe Tyler, President and CEO of Informz. "We're proud to collaborate with the Franklin Community Center, an organization that is so important in our city, especially during this time of the year."
For more information, contact Lori Ely at 518-691-0071 x208 or ely(at)informz(dot)com.
About Informz:
http://www.informz.com
Informz is an integrated email marketing service that enables highly personalized and targeted communication. The Informz solution provides customers with the tools and expertise to easily and cost-effectively promote their brands, stay in touch, generate and analyze data about their markets, manage information about their customers and partners, and receive valuable feedback to refine future action. Advanced features in the Informz product include text messaging, online survey tools, online voting, and event registration.
###