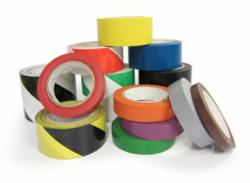 "We have used vinyl tape for a long time and we have never had to re-do any floor markings. We will never go back to paint for marking floors."
Lake Oswego, OR (PRWEB) December 19, 2012
Vinyl floor marking tape is considered in the safety product market to be the most affordable floor tape manufactured in the USA. The tape is now offered through Floor-marking-tape.com, another safety supplier that has teamed up with Creative Safety Supply. Because the vinyl floor marking tape comes in a variety of colors and designs, it makes a great product for any Lean or 5S programs. The tape is available in ten standard OSHA and four hazard-striped color options that will promote organization by visually identifying areas in facility workplaces.
Facility floor marking tape is rapidly replacing the need to paint lines, aisles, and areas in workplaces. Floor tape can handle forklift traffic and industrial scrubbers in any manufacturing facility with wet or dry environments. Numerous business owners are complaining that painted lines chip and fade away after only a couple of months from everyday pedestrian or forklift traffic. When paint is used for marking areas in a facility, it causes down time in production as the paint needs to dry and cure and the area usually needs to be quarantined due to paint fumes. Vinyl floor marking tape can be applied in a matter of minutes due to the peel-n-stick application and will hold up much longer than paint.
Vinyl floor marking tape is a cost-effective multipurpose solution for marking floors, workstations, color-coding, and other needs. Floor marking tape is an easy solution to promote organization and safety in any workplace. The tape is ideal for any type of business as it is resistant to aging, sun, water, fungus, bacteria, oil, acids, alkalies and corrosive chemicals. A business owner commented, "We have used vinyl tape for a long time and we have never had to re-do any floor markings. We will never go back to paint for marking floors."
For more information about floor marking tape, please visit http://www.floor-marking-tape.com or call toll-free (866)777-1360 to speak with a professional representative.