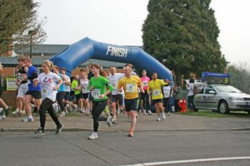 Selsdon Half Marathon is always run on a Saturday.
Croydon (PRWEB UK) 15 December 2012
The Selsdon Half Marathon near Croydon in Surrey is scheduled for the 23rd March 2013.
Sports event registration website RegEvent.co.uk have now started accepting entries for this event.
This race has been staged for several years and is always run on a Saturday. This was the intention of race organiser, The Church of Jesus Christ of Latter-day Saints, whose members, on religious grounds, want to keep the Sabbath by not competing on a Sunday.
The church are marketing the event as an alternative to runners who would otherwise have entered the London Marathon but can't because of it being on a Sunday. They also say it is a great way for other runners to warm up for the London event which takes place a month later.
The half marathon is open to all runners, of any religious or non-religious persuasion! Competitors must be 16 or over and the cost is a very reasonable £15.
The course is in a rural setting starting at the Church's meeting house on the corner of Ashen Vale and Selsdon Park Road in Selsdon (CR2 8JA) and follows an undulating picturesque route that includes on and off road sections.
Last year's winner finished the race in a time of 1hr 24mins. A young, up and coming, runner may see this as an opportunity to get themselves noticed by posting a winning time.
More details on how to enter this event can be found at http://regevent.co.uk.
RegEvent.co.uk
87-89 Park Lane
Hornchurch
Essex
RM11 1BH
info(at)regevent(dot)co(dot)uk
About RegEvent: Established in 2010, RegEvent is a sports event registration website that advertises sporting events for event organisers. It takes online payments and provides organisers with tools to manage their event registration. Event organisers interested in using RegEvent should contact Simon Burgess on 0203 3971648 or visit the RegEvent.